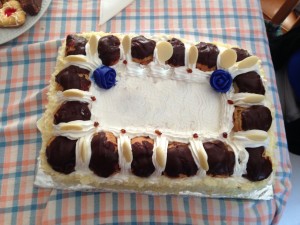 Every week I have dinner at my in-laws' house. There is no downside to this because: a) I married into the best family ev-ah, b) my mother-in-law is a phenomenal cook, and c) someone is feeding me. But the best of all those dinners are birthday dinners. That's when the birthday boy or girl is allowed to choose all their favourite dishes.
Last week was my sister-in-law's birthday. Her requests are fairly similar to mine. We are ladies of good taste. This year, though, there was a new factor. Her boyfriend. The boyfriend is great. And he has connections to pastry chefs, so I'm all like "welcome to the family!"
Do you all know St. Honore cakes? The ones with the little cream filled balls on top? (See above photo). They're good but the boyfriend was telling us how his chef friend makes one with balls both on top and inside, instead of just sponge cake inside. Which is insane and of course we all had to try it. Thus it became the birthday cake a.k.a the balls inside cake.
Imagine a pastry chef, let's call him Little Tony, with an Italian accent who has one volume – cranked to eleven. So the boyfriend goes to order the cake and the resulting conversation ensues: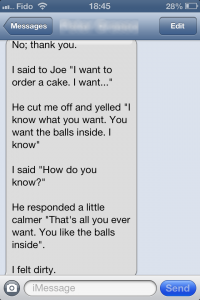 This vaguely euphemistic (utterly blatant?) discussion isn't even weird for our family. Many of you know the kinds of books I write. This conversation would not be out of place in one of them. Which just goes to show, that it's not just me. It's the people I'm attracted to, the people I'm related to, the people they're related to and yeah, I'm gonna say it – all my friends and probably a good share of all you, dear readers. (I'm just gonna ignore the fact that I'm the common factor here.)
Of course, after this exchange was relayed to us, we all had to use "balls inside" as much as possible in various phrases when speaking about the cake. I.E. Don't you love how full and creamy the balls inside are? Yup, I have my people and they not only cross the line into inappropriate, they gleefully do a little dance as they kick sand over top of the damn thing.
Smut as continual subtext in our lives. Doesn't matter if we're being literal – because the balls were inside – it all just ends up feeling dirty.
heh heh
Thus this post is just to say that I'm glad of the company. And the cake? Well, check it out. Each of those little squares contained its own ball. Heavenly!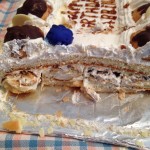 Balls inside – the birthday cake of champions! I dare you to go order one.
xo
Tellulah
Subscribe for bonus content and insider scoops!
Twittering away...
Finally worked my way through my TBR pile to Keystone by Dannika Dark and I'm so glad I did! https://t.co/7mNkl5f3dP https://t.co/DQRCBD1xCf
- Sunday Feb 25 - 4:54pm
Husband just remembered that once, when asked what she wanted to be when she grew up, my kid replied, "I wanna be on stilts!" #soproud
- Friday Feb 23 - 9:25pm
https://t.co/1UHQhm57rN Cautiously optimistic about the premise
- Wednesday Feb 21 - 9:20pm
SPOILER ALERT! A fabulous video that you absolutely SHOULD NOT WATCH if you have not yet seen The Good Place s1 fin… https://t.co/Jqf3UnxHg3
- Tuesday Feb 20 - 4:15am
Lose yourself in a funny, sexy urban fantasy romance! The Unlikeable Demon Hunter: Crave releases Feb 20 and to cel… https://t.co/WPcUSnVRRu
- Sunday Feb 18 - 4:56pm
Tellulah's Old Darlings