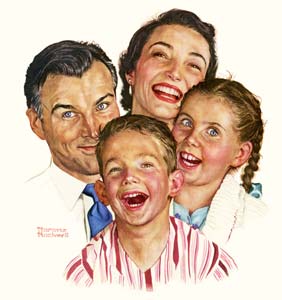 OR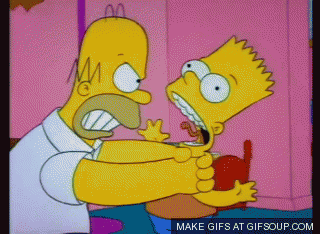 It may come as a shock to hear that my family does not resemble the Norman Rockwell painting above.
Case in point:
I was recently invited for brunch at a friend's house. After a beautiful, homemade meal including gluten-free bread, free range organic sausages and lovingly made jams (note the plural), we enjoyed scintillating conversation, interrupted (politely) by children wishing to show off the occasional creative performance (dance, woodworking project, start of new symphony). Let me clarify – by her children, all of whom are ruddy cheeked with robust health from playing outside and cycling everywhere.
Contrast this with my Sunday the following week. After stumbling cranky and groggy out of bed, I peered blearily at my condiment-full fridge and contemplated getting dressed to go grocery shopping to provide my family with a nutritious breakfast.
Briefly.
Then I shut that nonsense down and grunted at my husband to get in the car, drive across town, (thereby leaving as many muddy footprints on our delicate ecosystem as possible) and buy bagels.
After we ate breakfast in silence, husband, child and self all glued to various books/electronic devices/light boxes to keep us happy happy happy, it was into the car for quality family time running errands.
I didn't have to worry about my daughter's vampire-pale skin burning from the thirty second contact with the sunlight that it took to get her into the car, because despite the sunny, warm, weather, she wore five layers of clothes topped with a puffy winter coat.
I pick my battles.
The drive commenced.
Five minutes later:
INT. CAR – DAY
Husband drives, wife in passenger seat. Tween daughter in back. Music plays. Windows are shockingly open because it is finally sunny.
Me
(to husband) You missed the turn-off to Home Depot.
Husband
We're not going there. We need to dump the dead weight in the back.
Without glancing up from Kindle surgically welded to her hand, daughter elongates and contorts free hand to smack husband.
Husband
Not you, dumbass. The old computer in the trunk.
Daughter smacks husband again. Then smacks me for laughing.
I think the above scenario illustrates the following points:
1) We have managed to give my daughter the mistaken belief that we think of her as dead weight. In fact, we have gone to great pains to constantly praise said child because a) we cannot afford therapy and b) as an only child of two parents in the arts, she is the fine line between us and a cardboard box as our retirement plan.
2) Apparently our daughter can multi-task quite efficiently. A thought which gives me hope for her future and me not living in aforementioned box.
and
3) It is irrelevant whether we laugh "with" or "at" each other. What's important is that as a family we laugh.
Come to think of it, those people in the Norman Rockwell picture do look a tad manic. Maybe our dysfunctional family has something in common with them after all.
SEE ALSO:
Fakebook away, I'll still heckle
On being cheap vs easy a.k.a. are you Betty or Veronica?
Subscribe for bonus content and insider scoops!
Tellulah's Old Darlings