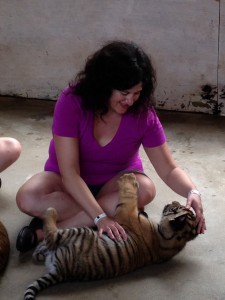 Hey Tellulah, why are you cavorting with a tiger cub? And what does that have to do with writing? Well, a lot actually. Back in my screenwriting days, I always used to hear the phrase "write what you know." This doesn't just mean that you're literally limited to your life's achievements because it's amazing how on a thematic level, all kinds of personal experience can be brought in to develop character. I've always found being a writer an ongoing surprise of psychological insight. Not always happy – but that's another post.
Writing what I know is all very good, but let's face it, I write romantic comedies that tend to also be fantasies. And I state right up front that the reason I write them is that my first kissed sucked and I'm compensating. Obviously, then, there is a great deal of wish fulfillment happening.
Isn't that why we read? Wish fulfillment? A specific craving that we want satisfied and that our daily life can't provide. (50 Shades of Grey lovers, I'm looking at you. But I'm looking at you Lord of the Ring fanboys and girls too. And Hunger Games aficionados, etc etc.)
I don't know about the rest of the authors, but these not-so-secret desires that I stick into my stories are why I write as well. (*I feel compelled to note, that despite all my forays into YA romcom, my husband is my dream guy. For me, this has to do with reliving that first flush of passion and young love. Though at the end of the day, I'm delighted to get to go back to my guy.)
Which brings us back to tigers. I wrote a scene in My Date From Hell (The Blooming Goddess Trilogy Book Two) in which Kai cavorts with tigers and Sophie gets all hot and bothered. But you see, that's my dream. When I was young, I wanted to live in a NY penthouse and throw glittering salons for the creative elite, accompanied by my pet panther. Which leads me to believe that I either intended to grow up in 19th century Paris or a perfume ad. Same thing?
Anyhoo, that's why I wrote the scene. Yeah yeah, character detail and attractiveness – at the end of the day, it was me wishing I could play with jungle cubs. Getting to the photo now, I swear. Because this past December I had the chance to do just that. You have no idea how giddy I was sitting there on a floor playing with 3 baby tigers, a baby lioness and for the heartstopping finale – a baby jaguar! I even learned that a baby tigers' fur is not as soft as you might htink. More slightly bristly versus a baby jaguar which is like velvet. Thus, can I chalk it up to an educational experience. (Yeah, not buying it either.)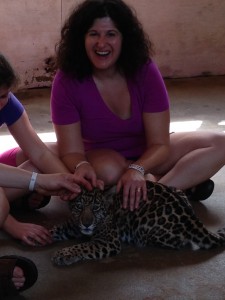 (Note me being a jaguar hog and shoving my darling child aside. But quite frankly, there is motherly love and there is me getting to hang with a freaking baby jaguar so stop judging!)
All of which leads me to believe that maybe, the universe is hearing my plea. That all these cravings that I channel into my books are somehow going to find their way to me in reality. Which is why my next series is entirely set in a NY penthouse.
Kidding.
Sort of.
Subscribe for bonus content and insider scoops!
Twittering away...
https://t.co/1UHQhm57rN Cautiously optimistic about the premise
- Wednesday Feb 21 - 9:20pm
SPOILER ALERT! A fabulous video that you absolutely SHOULD NOT WATCH if you have not yet seen The Good Place s1 fin… https://t.co/Jqf3UnxHg3
- Tuesday Feb 20 - 4:15am
Lose yourself in a funny, sexy urban fantasy romance! The Unlikeable Demon Hunter: Crave releases Feb 20 and to cel… https://t.co/WPcUSnVRRu
- Sunday Feb 18 - 4:56pm
Bet you didn't know you could pair tap dancing and Star Wars! https://t.co/GS2qzvH7nJ
- Friday Feb 16 - 8:45pm
Better late than never! Discovered the Haim Time podcast on Beats One. So good!
- Friday Feb 16 - 6:45pm
Tellulah's Old Darlings