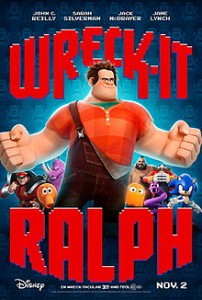 Why: Great take on a hero who wants to be a villain
Last time I posted about Elphaba and how she was a great example of taking an iconic villain and turning her into a hero. Here's the thing, though, Elphaba never starts out wanting to be a hero.  She may become heroic but it's not actually her stated goal. Ralph, however, as bad guy of the Fix-It Felix game, desperately wants to be a hero. He's endured thirty years of living alone and friendless in the dump. He is the perpetual outsider, bitter and angry at constantly having to look in at what he's missing.
Is it understandable he wants to be seen as a good guy? Of course. And so Ralph sets out to get a hero's medal to prove he's a hero.
But here's the important part about heroes; heroes are made not born. Truthfully, I'm a little touchy about how the word hero is bandied around these days. Being a victim of a tragic event does not make you a hero. It makes you the victim of a horrible tragedy. You earn heroic status through struggle and overcoming adversity in pursuit of a goal. The active pursuit is as necessary as the struggle.
If we go back to Greek mythology, Heracles wasn't born a hero. In fact he was a drunken bully. Those twelve labors he had to perform were not to confirm how heroic he was. They were a punishment.  He became heroic through the transformation of his essential nature as he completed them.
And now, here's Ralph, thinking he can just go in, get a medal and voila. Hero. What an arrogant stinkbrain. He wants to be a hero without earning it. What he's forced to learn and the beauty of the story is that to become a hero is going to require some tough decisions, some sacrifice, and ultimately, pulling his head of out his ass to get beyond his own ego and care for others.
In my Game of Thrones post, I discussed characters who see themselves in a certain way and then have a reversal of fortune which forces them to reassess their identity on a profound level. Ralph, too, is tied in to seeing himself as the bad guy. His entire ego is actually invested in that.  So to reverse his fortune, he'll have to get beyond his ego.
In the end, Ralph is a hero that gets everyone rooting for him as we all have a ton of fun accompanying him on his journey.
Written by: Phil Johnston (screenplay) and Jennifer Lee (screenplay), Rich Moore (story) and Phil Johnston (story) and Jim Reardon (story)
SEE ALSO:
Subscribe for bonus content and insider scoops!
Twittering away...
https://t.co/1UHQhm57rN Cautiously optimistic about the premise
- Wednesday Feb 21 - 9:20pm
SPOILER ALERT! A fabulous video that you absolutely SHOULD NOT WATCH if you have not yet seen The Good Place s1 fin… https://t.co/Jqf3UnxHg3
- Tuesday Feb 20 - 4:15am
Lose yourself in a funny, sexy urban fantasy romance! The Unlikeable Demon Hunter: Crave releases Feb 20 and to cel… https://t.co/WPcUSnVRRu
- Sunday Feb 18 - 4:56pm
Bet you didn't know you could pair tap dancing and Star Wars! https://t.co/GS2qzvH7nJ
- Friday Feb 16 - 8:45pm
Better late than never! Discovered the Haim Time podcast on Beats One. So good!
- Friday Feb 16 - 6:45pm
Tellulah's Old Darlings