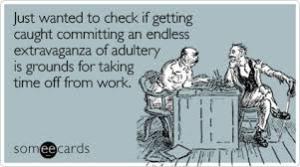 I was watching Mike Holmes the other day at about 10:30PM in my pjs since that's what hubs was watching and we have one TV. Sort of in that half-asleep, half-fascinated by the train wreck of a house that he was working on. The commercials had been pretty much what you'd expect to that point – various reno products, a movie trailer.
But then my flagging attention was caught by this:
That's right, an Ashley Madison commercial. If you don't know that site, it's for married people to cheat. After I'd moved past my "Is one of us supposed to be the zombie in this relationship?" confusion, I started wondering whatever possessed their marketers to think that this was the right time slot? Was I going to be so aroused by the term "knob and tube" and Mike's burly hand running over a sleek length of pipe, so frustrated then looking over at my partner in his mismatched bed wear, that I'd think, "Say, I DO think my marriage would be better off if one or both of us cheated!"
That perplexed me enough, except the next commercial break held another surprise. Specifically an ad for Cougar.com. Which admittedly, I kept thinking was some kind of SNL skit, waiting for the punchline that never came. (I tried to find the specific ad and couldn't. It was pure cheese. Trust me.) Then I began to wonder – were they owned by the same corporation? Maybe they got a twofer on their ad rates?
But all became clear on the final commercial break. That's when the ad for eharmony ran. And at last I understood. It was genius marketing really. Thematic, even. There's a reason the AM commercial ends with the woman having the secret. These 3 ads are proposing a total lifestyle shift. "If that lunk isn't going to do more with you on a Friday than watching reno shows, spice up your own life, sister!" I believe this is their plan: first I sign up for AM. The resulting implosion of my marriage would free me up to then take on Cougar.com. But eventually, wearing leopard print and trolling for fresh-faced puppies would wear thin, as it does, and I'd want a more lasting love. At which point, eharmony, baby.
Then I begin the cycle again. Now, I don't actually have the energy to test this brilliant theory, (plus I really love my husband) but should you do, please report back! And happy cruising!
Subscribe for bonus content and insider scoops!
Twittering away...
Finally worked my way through my TBR pile to Keystone by Dannika Dark and I'm so glad I did! https://t.co/7mNkl5f3dP https://t.co/DQRCBD1xCf
- Sunday Feb 25 - 4:54pm
Husband just remembered that once, when asked what she wanted to be when she grew up, my kid replied, "I wanna be on stilts!" #soproud
- Friday Feb 23 - 9:25pm
https://t.co/1UHQhm57rN Cautiously optimistic about the premise
- Wednesday Feb 21 - 9:20pm
SPOILER ALERT! A fabulous video that you absolutely SHOULD NOT WATCH if you have not yet seen The Good Place s1 fin… https://t.co/Jqf3UnxHg3
- Tuesday Feb 20 - 4:15am
Lose yourself in a funny, sexy urban fantasy romance! The Unlikeable Demon Hunter: Crave releases Feb 20 and to cel… https://t.co/WPcUSnVRRu
- Sunday Feb 18 - 4:56pm
Tellulah's Old Darlings