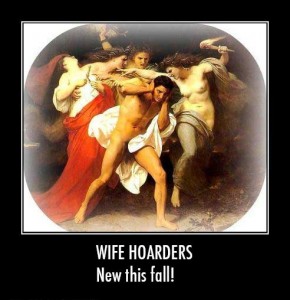 I want to speak up today about a serious problem going on around the world. Of course, I refer to wife hoarding. That practice of collecting many women as wives and housing them together, often in treacherous and unsanitary conditions.
On our new series Wife Hoarders, we aim to expose this tragic problem for what it is and get help for the men who suffer from it. Sadly, all too often, they have suffered a highly traumatic event that has led them down this dark and dangerous path. Events like moving out and losing mom as cook/housekeeper, needing to compensate for high school rejection by showing up at reunions surrounded by bevy of adoring women, or simply finding that your oil well, source of your riches, has a tendency to erupt at the most inopportune moments.
Follow our crack team as our resident psychologist clears the wounds on these mens' souls in tandem with our hazmat team cleaning the waste from their homes.
Quake at the terrifying sight of declogging 2.5 baths in a house containing 8 women but wonder at the crafty applications of hair.
Cower as we open overstuffed closets and narrowly avoid death by stiletto but be sure to follow the links to ebay after the show.
Watch the blood fly as 1 diamond tennis bracelet is brought home to be shared amongst the many then train along with the wives as they get boxing tips from former heavyweight champs.
Feel the Hitchcockian tension as their cycles sync up and win a lifetime supply of feminine hygiene products courtesy of our sponsers.
And weep at heartbreaking moments like this one:
Host: (broken voice) Get the camera in here. We found Ginger.
Husband gasps and comes running into basement where faulty cellar door has been pried open with a crowbar. He wails at the dessicated husk of wife number 4, a jar of homemade preserves clutched in her hands.
Husband: I thought she was in the bathroom.
Later, marvel at wife number 12's emotional reserves as she shares that recipe with us in wife number 4's memory.
From small towns to Saudi palaces, we boldly go where no team has gone before.
So join us this fall and help bring this distressing issue to light.
Wife hoarders: so wrong, you'll never be right.
SEE ALSO:
Game of Thrones: Why the hell were we all so surprised
Subscribe for bonus content and insider scoops!
Twittering away...
SPOILER ALERT! A fabulous video that you absolutely SHOULD NOT WATCH if you have not yet seen The Good Place s1 fin… https://t.co/Jqf3UnxHg3
- Tuesday Feb 20 - 4:15am
Lose yourself in a funny, sexy urban fantasy romance! The Unlikeable Demon Hunter: Crave releases Feb 20 and to cel… https://t.co/WPcUSnVRRu
- Sunday Feb 18 - 4:56pm
Bet you didn't know you could pair tap dancing and Star Wars! https://t.co/GS2qzvH7nJ
- Friday Feb 16 - 8:45pm
Better late than never! Discovered the Haim Time podcast on Beats One. So good!
- Friday Feb 16 - 6:45pm
SNL, why did you cut this?! https://t.co/zW8qYyVfc0
- Tuesday Feb 13 - 12:45am
Tellulah's Old Darlings