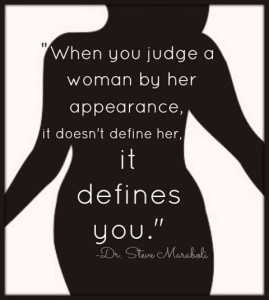 A few days ago, All About That Bass came up on my playlist. I'm listening to Meghan sing about " skinny bitches" and it reminded me of a number of articles I'd read taking her to task about skinny shaming. One woman in particular had said something to the effect that she would only use skinny in conjunction with jeans so that the shaming could end.
It got me thinking. See, I've never been skinny. Weight has been something I've struggled with my entire life. Being healthy, feeling beautiful and being considered beautiful while not at some society-mandated weight are all issues I'm familiar with.
Skinny, however, is prized in Western culture. There is most definitely a desired body type, a small size that many women will go (sometimes, sadly to extremes) to attain. Why? Because we are told it's attractive. This fact is not news to anyone. So why are women being shamed for being skinny? Why shame women for possessing a quality that we as a gender are told we should aspire to?
When I first heard Meghan's lyrics, I admit, I cheered. Take that, skinny ladies! All sizes are beautiful! Well, after a bit more thought, I still agree with the second sentence, but I'm not comfortable doing so at the expense of anyone.
I'm sure skinny shaming happens, and honestly, I don't know if it's as hurtful to be shamed for something that is valued in a culture as for the opposite. (If there is someone who has experienced both ends of the weight spectrum, could you answer that question? I can tell you that being fat shamed is a horrific experience.)
And if skinny shaming does occur frequently, does hurt just as much, is wielded as a weapon against women just as pointedly as fat shaming, then when it comes to body image, is there any weight where we ladies get to win?
Let me know your experiences, and meantime, let's all love ourselves – and be kind to each other – whatever our size, because it has to start with us.
Subscribe for bonus content and insider scoops!
Tellulah's Old Darlings