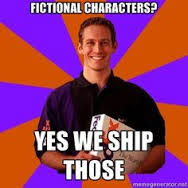 Shipere: latin verb – to ship, the hardcore investment in and attachment to a particular fictional relationship. I ship. You ship.
The other day, my 13-year-old daughter asked me who I shipped. She had rattled off her list and wanted mine. Now, my kid consumes all kinds of stories, so her list ranged from Harry Potter to manga to Buffy (thanks to me introducing and watching all 7 seasons with her) and now (again, on me) Kurt and Blaine on Glee.
I really had to think about the question. I mean, sure, I have shipped hard over the course of my life, but I couldn't name a single couple that I shipped at this moment. Not even couples in series that I'm so completely invested in and would go postal if their HEA was denied. I care about many characters but the active act of shipping? Not so much right now.
I started to wonder why? Was it my cold, dead heart? Surprisingly, no! I'm at various stages of three different manuscripts right now. And I'm focusing so hard on creating the shipness of their reality, that I'm incapable of shipping anyone not my own creation at this moment.
Not that all my characters have hit OTP status (one true pairing) – yet. But I'm getting there.
I know people who only like to read or watch certain types of stories depending on what is going on for them in their own life. That makes total sense to me. But what about shipping (for all you shippers?) Is it a ongoing constant for you? Or, like me, do you need to be in a specific space for the ship to flow?
I'm genuinely curious. Also, for you, what makes a couple worthy of shipping? Let me hear from you, darlings, on all swoony ships!
Subscribe for bonus content and insider scoops!
Twittering away...
https://t.co/1UHQhm57rN Cautiously optimistic about the premise
- Wednesday Feb 21 - 9:20pm
SPOILER ALERT! A fabulous video that you absolutely SHOULD NOT WATCH if you have not yet seen The Good Place s1 fin… https://t.co/Jqf3UnxHg3
- Tuesday Feb 20 - 4:15am
Lose yourself in a funny, sexy urban fantasy romance! The Unlikeable Demon Hunter: Crave releases Feb 20 and to cel… https://t.co/WPcUSnVRRu
- Sunday Feb 18 - 4:56pm
Bet you didn't know you could pair tap dancing and Star Wars! https://t.co/GS2qzvH7nJ
- Friday Feb 16 - 8:45pm
Better late than never! Discovered the Haim Time podcast on Beats One. So good!
- Friday Feb 16 - 6:45pm
Tellulah's Old Darlings