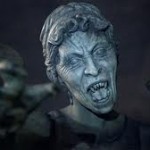 Why: because they are scary as sh**!
Let's face it, when it comes to moments that haunt you for years after, there are a lot of greats. Maybe it's Carrie's hand shooting out of the grave (an image which made me fear going up open staircases for ages). Or you might prefer Jason, supposedly dead, jumping through the hero's window, or the shower scene in Psycho.
But to me, the scariest moments of all are those that manage to take the most mundane, everyday, harmless things and make them objects of terror. Stephen King is a master of that. In The Shining alone, he managed to ruin children riding Big Wheels down a hallway, elevators, bathtubs and twins. Good going.
IMHO, Steven Moffat has topped King with the Weeping Angels. For those of you unfamiliar with these puppies, let me sum up. They are an alien race of murderous psychopaths found in Doctor Who, who send you back in time and feed off the time energy of your life. Best not to examine the logic too closely. It's not what they do that is so scary but how they do it. These guys take over the bodies of statues.
Have you ever stopped to look around and count how many statues there are? Angel variety or otherwise (because they don't just limit themselves.) A lot. So there they are just hiding in plain sight, ready to take oblivious little you at any moment. Of course, as long as you keep looking at them, they remain frozen and you're safe.
And here is the absolute elegant beauty of these monsters – how long can anyone go without blinking? Because in that fraction of a second, the angels will play a deadly game of "What time is Mr. Wolf?" on speed with you. Between each lashfall, they will move in, teeth bared, hands raised in claws, ready to take you out.
You could try and run, but then you wouldn't be looking at them, which means they could get you. You could back away, maybe even manage not to blink but chances are you're going to run into another statue.
So your only hope is to stand there, forever, not blinking… A beautiful horrorshow. Next time you're writing a monster, stop and think about what in the everyday can be perverted from its normal use into something terrifying. And then what's the most seemingly impossible thing that can render it harmless?
Even if you never want to watch a Doctor Who episode, watch Blink, a mostly self-contained story that as a bonus features Carey Mulligan. And prepare to be very afraid.
Weeping Angels were created by Steven Moffat.
RELATED POSTS:
Subscribe for bonus content and insider scoops!
Tellulah's Old Darlings