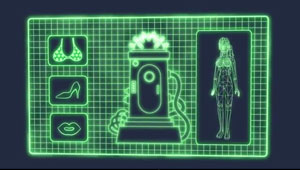 Some female friends and I were chatting with a guy we know recently about a story idea of his. It's a good idea but I was saying that in my opinion, he needed to flesh out his characters – especially his female lead. The other women agreed with me. He nodded, and then asked, "So, what do you want in a female character?"
The question took me by surprise. I know that he meant it with all the best intentions but my initial reaction, once my hackles had subsided – and spoken aloud by a young women I was with was  – "don't write her by gender". That got me wondering. Do women writers ask that question? I know I wonder whether or not I'm writing a male voice accurately, but then again, I wonder if I'm writing every character's voice accurately.
What do I want in a female character? Above all, I don't want her to be crafted off some gender checklist. I want her to be a fully actualized human being. I want you, the author, to know her flaws and her passions and her fears and her strengths and then share them with me. I want to see how she is a good friend or a whiz kid or a terrible girlfriend and not just be told it. I want to see how she handles herself under pressure. I want to understand what her journey is about on a character level and why her struggle towards balance and empowerment matters. Or why it's going to hurt so bad if we see her fail.
I want a human being. Not a gender. Not a collection of character traits. Not a bunch of physicalities.
I want this question to stop being asked.
Subscribe for bonus content and insider scoops!
Twittering away...
Husband just remembered that once, when asked what she wanted to be when she grew up, my kid replied, "I wanna be on stilts!" #soproud
- Friday Feb 23 - 9:25pm
https://t.co/1UHQhm57rN Cautiously optimistic about the premise
- Wednesday Feb 21 - 9:20pm
SPOILER ALERT! A fabulous video that you absolutely SHOULD NOT WATCH if you have not yet seen The Good Place s1 fin… https://t.co/Jqf3UnxHg3
- Tuesday Feb 20 - 4:15am
Lose yourself in a funny, sexy urban fantasy romance! The Unlikeable Demon Hunter: Crave releases Feb 20 and to cel… https://t.co/WPcUSnVRRu
- Sunday Feb 18 - 4:56pm
Bet you didn't know you could pair tap dancing and Star Wars! https://t.co/GS2qzvH7nJ
- Friday Feb 16 - 8:45pm
Tellulah's Old Darlings