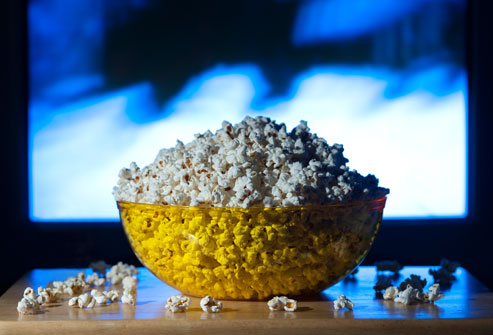 Tis' the season to get bundled up in warm pjs and set ones butt down in front of the TV for some serious binge watching. I'm not talking the new season of Orange is the New Black or House of Cards. Yeah, yeah, whatever. This is the big leagues, darlings. I'm talking "multiple seasons, give up your life and hiss at the sun like a vampire when you finally emerge from your house" watching.
May I present, for your consideration, my favourite all-time binge watches ever. The criteria are: multiple seasons, the series is wrapped up, and I happen to love it. **Note: Breaking Bad would be on this list but I'm trying to expand your horizons beyond the obvious. #3 being the exception but it's Buffy so if you really want to take it up with me, go ahead. I dare you.
1) Battlestar Galactica: 4 seasons, 73 episodes, 1 miniseries, 2 films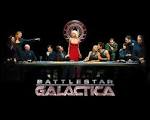 This is what commitment looks like. I had refused to watch this show. I was so Star Trekked out that I couldn't bear the thought of another space show. Then my husband brought home the miniseries that kicked it off. I scoffed and read my book. Cut to 10 minutes later when my book lay on the sofa, forgotten, my eyes wide, my entire being totally engrossed. It just got worse from there. We timed it to be able to watch 3 episodes between picking up and dropping off the kid from school. I gorged the miniseries, 3 seasons and 1 of the films in one go. I was seeing Cylons everywhere. AND I LOVED IT! I don't care if you hate sci-fi – I've had tons of those haters gush about how good this show is. Because it is seriously excellent. It's about robots with humanity, and humans with culpability for the destruction of the human race, all hurtling through space in the claustrophobia of a few ships. And the characters? Please. If you have ever professed to love kick-ass chicks, then let me introduce you to the wonder that is Starbuck. Humour, tension, enormous stakes, heart, sexytimes – Battlestar has it all.
2) Borgen – 3 seasons, 30 episodes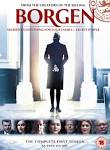 This was the conversation I had with my friend after binge watching Borgen. Me: You have to watch this show! It's incredible. Steve: Yeah? What's it about? Me: It's a Danish series about the first women Prime Minister. Steve (looking at me with heavy skepticism) So it's a scathingly funny satire? Me: Nope. Steve: A gritty drama. Me: Nope. Just a drama. Steve: (walks away) AND IT WAS HIS LOSS. If you like The West Wing, or Scandal or any kind of insider political show, I swear that if you track down this Danish series, you will not be disappointed. It has everything you want from this kind of a series: scandal, political machinations, infidelity, marriages falling apart under the spotlight, people with baggage galore. It's fabulous!
3) Buffy The Vampire Slayer: 7 seasons, 144 episodes

I'm not going to insult anyone by explaining what Buffy is. You all know. I'm just going to say this about the genius of Joss Wheadon. The story I heard was that he used to ask the writers what their most embarrassing moment as a teen was and then figure out the monster that best embodied it. That's how you write teen drama. Also, one of my big pet peeves in YA is when the protagonist doesn't seem to have any friends. See, my friendships were so important and yes, at times simply fraught with drama so I have HUGE love for the friendships in this show. And then there is Spike. The bad boy of all bad boys. Keep your brooding Angel, you're welcome to him. Though, that season two relationship is one of the most brilliant in terms of (again) things that teens worry about. No spoilers here though. It's also so funny. And angsty. Really just incredibly true to teen years (except maybe the vampire part, depending on where you grew up).
4) Coupling: 4 seasons, 28 episodes

From the brilliant Steven Moffat, who you may know better as the showrunner of a little show called Doctor Who, Coupling was his answer to FRIENDS. And while it didn't survive as a US remake, that's perfectly fine, because you'll want to catch this group in their British baggage laden glory. The premise of the series is simple (and yes, familiar) – when you start to date a new person, you're also dating their friends. And much as I loved FRIENDS, the comedy here is pushed a great deal further. In fact, episode 4 in season one, Inferno, may be the funniest half hour of television ever written. Followed closely by episode 5, The Girl With Two Breasts, which plays out half the time in gibberish, and all the more side-splitting for it. If you want to full-on laugh, this is your show.
5) Gavin and Stacey: 3 seasons, 26 episodes, 1 Christmas special

I'm going to go out on a limb and assume you like romantic comedy. Because, well, you're at my site. A much lighter time suck than some others, this is one of the sweetest, funniest shows I've ever seen. It's the story of Gavin and Stacey, co-workers at different branches who start the series with their first meeting. To which they bring their best friends (who steal the show). Really, the entire show is about their relationship, their friends and their family. Very small scale but with enormous heart and wit. And  oh, the characters. They are so brilliantly wrought, allowing for enormous comedy all stemming from character. I have yet to meet anyone who hasn't loved this series. If you are one of those people, don't tell me. Let me keep my illusions about you, you cold, dead criminal, you.
6) Mad About You: 7 seasons, 163 episodes

Yes, it's another romcom, but my site, my picks. Besides, this show needs big love. This was the show that felt so true, that people would argue on-line about whose personal relationship story was closest to what had happened that week. It's the story of a marriage, and the friends and family that you bring to that marriage. It seems so simple really. I don't know why this particular magic hasn't hit again on US network TV, but nothing has come close to the giddy joy of watching Paul and Jamie navigate their marriage. It doesn't even have the will they/won't they tension that drives so many other shows. And it doesn't need it. This was a perfect comic gem, exploring relationships, and making us laugh and cry. Plus, massive bonus feature of Cyndi Lauper in one of the best recurring roles ev-ah!
7) Misfits: 5 seasons, 37 episodes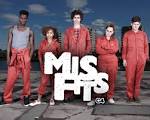 I'll let you in on a little secret. You don't actually have to watch anything beyond the first three seasons. All the main storylines are wrapped up, and after that there was a significant cast shift and it all fell apart IMHO. This is a classic "careful what you wish for" story. Five teens doing community service get caught in a weird storm and end up with powers. BUT, the brilliant twist is that the powers are directly related to how each of them sees themselves, their entire self-identity. And in best magic power form, start to complicate their lives tremendously. By turns cheeky, dark, sweet, and sad, it's just a freaking awesome show. And it has Nathan, who is one of my favourite characters ever. Bonus – for any Game of Thrones fans, this series features Iwan Rheon, that horrible bastard Ramsay, in a very very different role. One I think he excelled at.
8) The Hour: 2 seasons, 12 episodes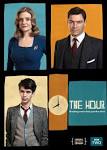 There should have been waaaay more episodes, but after winning popular and critical acclaim, it got cancelled. That'll teach me to get invested. Okay, any Mad Men fans out there? Yes? This is the way better version of that same time period. It's about a female news producer in the 50s, trying to get a current affairs show off the ground, when she gets saddled with a pretty boy news anchor. It is smart, sly, sexy, and simply phenomenal. Like the best period shows, The Hour explores every facet of its historical context, from male and female societal expectations, to institutional patriarchy to career and sexuality. Everyone should be watching this one.
9) The Larry Sanders Show: 6 seasons, 90 episodes

I think Larry Sanders was my original binge watch show. A friend brought over a carton of videotapes (yup VHS, baby), I sat down to watch it, and stood up again several days later, bummed that it was over. Gary Shandling is amazing as the narcissistic, petty late night talk show host. It's a sly blend of fact and fiction, exaggerating (though really, by how much) the neuroses and bad behaviours of celebs while giving us a glimpse at the inner workings of late night talk shows. Plus there is  the joy of real celebrity guests coming in to be interviewed. If you loved 30 Rock, you need to go back and watch the show that 30 Rock owes a debt to. This HBO show  helped pave the way for other adult content, profanity laden hits like Oz and The Sopranos. Satire at its best.
10) The Wire: 5 seasons, 60 episodes

I'm extremely wary of hype. Probably like many of you. And probably, many of you have heard this show hyped as one of the best TV shows ever. It is. Deal with it. The Wire was a game changer. For a few reasons. Most shows dealing with cops and crime previous to this, were really black and white. Cops good. Criminals bad. Forget that mindset. This is a show about people. And as we all know, some people are good, some people are bad, some good people do bad things and some bad people are capable of great kindness. We are a complex bunch. And this is a complex show. At it's heart, it's an investigation to take down a drug syndicate. And lead by a passionate cop who thinks that his drive for justice lets him cut corners and skip the chain of command. The Wire is shakespearean and epic as it unfolds. There is death – to be expected – but made all the more shocking for how often it isn't made shocking. It just happens. And the people in this world go on, even as the audience reels. There is truth and a beautiful understanding of human nature infusing every moment of this series. Each season, it looks at a different institution which adds to the big picture problem of the drug trade, from cops, to schools, to dockworkers, to newspapers and city hall. The creators actually worked in many of these areas for years, giving an incredible authenticity to the show and the characters. Because ultimately, all the other stuff is interesting but it is in the characters that this show blows the roof off. I dare you to ever forget Bubbles, Bunk, Stringer, Omar, Michael or Snoop. So trust me on this one, put aside your skepticism and watch it.
All right, darlings. Tellulah has set you up good. Have you already watched any of these? Any others fitting the criteria that you'd add? Since, you know, I need a show or seven of my own to binge.
Subscribe for bonus content and insider scoops!
Twittering away...
https://t.co/1UHQhm57rN Cautiously optimistic about the premise
- Wednesday Feb 21 - 9:20pm
SPOILER ALERT! A fabulous video that you absolutely SHOULD NOT WATCH if you have not yet seen The Good Place s1 fin… https://t.co/Jqf3UnxHg3
- Tuesday Feb 20 - 4:15am
Lose yourself in a funny, sexy urban fantasy romance! The Unlikeable Demon Hunter: Crave releases Feb 20 and to cel… https://t.co/WPcUSnVRRu
- Sunday Feb 18 - 4:56pm
Bet you didn't know you could pair tap dancing and Star Wars! https://t.co/GS2qzvH7nJ
- Friday Feb 16 - 8:45pm
Better late than never! Discovered the Haim Time podcast on Beats One. So good!
- Friday Feb 16 - 6:45pm
Tellulah's Old Darlings