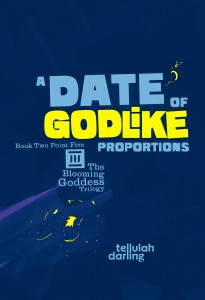 You didn't think I was going to leave you hanging, did you? Not when our Theo had a date to go on with such a swoony, fabulous god. This short story, from Theo's POV, fits between books two and three of The Blooming Goddess Trilogy (My Date From Hell and My Life From Hell). But if even you've yet to pick up the series, it can be enjoyed on its own.
Here's the rundown:
There's bound to be pressure when it takes 2500 years to get to a second date. Which is exactly why Theo Rockman, a.k.a. Prometheus, would rather not go. With his best friend gravely injured and the fate of humanity still on the line, Theo has all sorts of creative excuses to avoid dating swoon-worthy god and love of his life, Hephaestus.
YA romantic comedy gets an epic mythological twist in the free (at select retailers) short story A Date of Godlike Proportions (The Blooming Goddess Trilogy Book 2.5). Being human hasn't killed Theo, but this date just might.
At the moment, you can grab it on Kobo (free) and on Amazon ($0.99). It should be up soon on iTunes (free) as well. And if you do give it a read, please take a sec to rate/review on Goodreads, Amazon or anywhere else you can share your thoughts on it.
I hope you have as much fun reading it as I had getting into Theo's head.
Well, that's it for me for 2013. My family has insisted I actually interact with them instead of my laptop for the holidays. (We'll see how that goes …)
I'd like to thank you all for your friendship and support in 2013 and I wish you and your loved ones a joyous holiday season.
Until 2014 darlings, so long but definitely not farewell!
xo
td
Subscribe for bonus content and insider scoops!
Twittering away...
https://t.co/1UHQhm57rN Cautiously optimistic about the premise
- Wednesday Feb 21 - 9:20pm
SPOILER ALERT! A fabulous video that you absolutely SHOULD NOT WATCH if you have not yet seen The Good Place s1 fin… https://t.co/Jqf3UnxHg3
- Tuesday Feb 20 - 4:15am
Lose yourself in a funny, sexy urban fantasy romance! The Unlikeable Demon Hunter: Crave releases Feb 20 and to cel… https://t.co/WPcUSnVRRu
- Sunday Feb 18 - 4:56pm
Bet you didn't know you could pair tap dancing and Star Wars! https://t.co/GS2qzvH7nJ
- Friday Feb 16 - 8:45pm
Better late than never! Discovered the Haim Time podcast on Beats One. So good!
- Friday Feb 16 - 6:45pm
Tellulah's Old Darlings