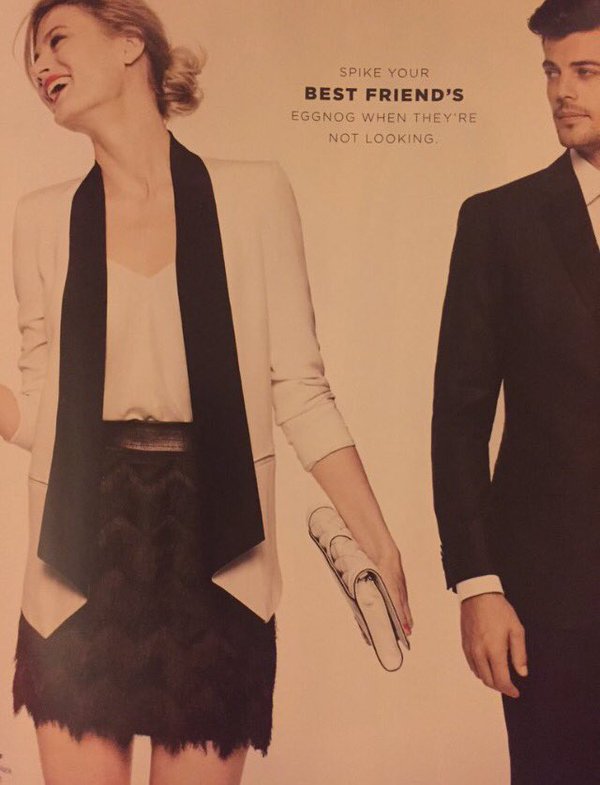 In case you haven't yet seen this ad from Bloomingdale's, let me direct you to an excellent article by Danielle Paquette at the Washington Post, breaking it all down. Okay, properly horrified yet?
For those of you who don't follow Canadian politics, our country recently got a new Prime Minister, Justin Trudeau. Our rock star love-in and myriad of "hot guy" Pinterest photos about him aside, one of Prime Minister Trudeau's first acts was to swear in a cabinet with gender equality. When asked why having a gender balanced cabinet was so important to him, Trudeau looked perplexed at the question before answering "Because it's 2015." Bless him.
2015, people. So how did a holiday ad promoting, let's face it, date rape, get through all the hoops of approval to actually end up on the page? We all know the answer, right? Gender equality is a myth. The reality is that I live in a world where I have to teach my daughter to never put down a drink at a party. Hell, don't even look away from it. I have to teach her how to be aware in the world, how to walk through parking lots, how to navigate the onslaught of social media images about woman that have nothing to do with the reality of the female body, female sexuality, or female experience. The reality is I live in a world where my country's leader is asked why half of his cabinet should be women.
So for 2016, instead of the roofie Xmas gift that keeps on giving, I'm going to put true gender equality on my wish list. (Yeah, I'm Jewish but I'm type-A so there are lots of lists. Deal.) I want to wake up in a world, not just a western culture, where women are truly equal, and free to be themselves in all their fabulous incarnations.
But I'm afraid I'll only get a lump of coal.
Subscribe for bonus content and insider scoops!
Twittering away...
SPOILER ALERT! A fabulous video that you absolutely SHOULD NOT WATCH if you have not yet seen The Good Place s1 fin… https://t.co/Jqf3UnxHg3
- Tuesday Feb 20 - 4:15am
Lose yourself in a funny, sexy urban fantasy romance! The Unlikeable Demon Hunter: Crave releases Feb 20 and to cel… https://t.co/WPcUSnVRRu
- Sunday Feb 18 - 4:56pm
Bet you didn't know you could pair tap dancing and Star Wars! https://t.co/GS2qzvH7nJ
- Friday Feb 16 - 8:45pm
Better late than never! Discovered the Haim Time podcast on Beats One. So good!
- Friday Feb 16 - 6:45pm
SNL, why did you cut this?! https://t.co/zW8qYyVfc0
- Tuesday Feb 13 - 12:45am
Tellulah's Old Darlings