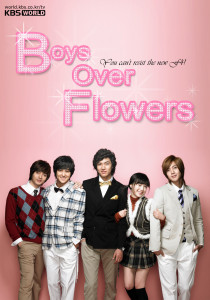 Hi, I'm Tellulah Darling, long time TV viewer, recent Korean drama addict. I was supposed to be writing this week. See, as some of you know, I've got my new book Get Real coming out soon. And I'm in the thick of marketing right now. But being the anal retentive list maker that I am, I actually was on top of my To Do list and so, I was going to catch up on some writing.
About a book I'm really excited about.
It's important to note the above fact because I really really was in the stage of writing where all I want is to spend time in this new world.  But then came the seemingly innocuous conversation I had with a couple of students that trainwrecked everything.
I could blame my kid. I mean, if she hadn't been such a huge fan of Buffy and all things manga, and her and I wanting a new show to watch, I might never have had this conversation. Might never have heard the words "You HAVE to watch Boys Over Flowers."
Might never have had my life sucked away as the two of us became obsessed with this damn show. It may well be ruining my life, for as my daughter has wailed on more than one occasion, "I don't know who to ship!" This is a love triangle of painful proportions, people, reminding me why I hate the damn things, and yet sucking me in on every level.
Trouble is, it's not just this show because by episode three, due to other conversations I subsequently had, I had a long list of other Korean dramas I had to (must/will) watch.
I fear I've fallen into a black hole of peppy, poppy, sometimes painful yet fabulous love stories. If I don't resurface in a reasonable amount of time, send help.
Subscribe for bonus content and insider scoops!
Twittering away...
https://t.co/1UHQhm57rN Cautiously optimistic about the premise
- Wednesday Feb 21 - 9:20pm
SPOILER ALERT! A fabulous video that you absolutely SHOULD NOT WATCH if you have not yet seen The Good Place s1 fin… https://t.co/Jqf3UnxHg3
- Tuesday Feb 20 - 4:15am
Lose yourself in a funny, sexy urban fantasy romance! The Unlikeable Demon Hunter: Crave releases Feb 20 and to cel… https://t.co/WPcUSnVRRu
- Sunday Feb 18 - 4:56pm
Bet you didn't know you could pair tap dancing and Star Wars! https://t.co/GS2qzvH7nJ
- Friday Feb 16 - 8:45pm
Better late than never! Discovered the Haim Time podcast on Beats One. So good!
- Friday Feb 16 - 6:45pm
Tellulah's Old Darlings