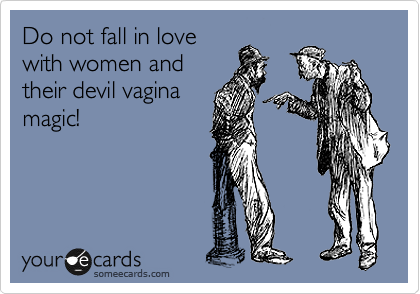 Don't you just looooove storytelling that reduces entire races down to a single characteristic instead of bothering to make them fully realized human beings? Why helloooo, Wise Asian. Thank you Magical Black Person. Stay back, Scary Arab Guy.
And now, I am so happy to learn that we women have our own reductive trait sweeping books these days.
Ladies and gentlemen, I present to you, the magic vagina.
I just learned of this term from a friend of mine. See, I was ranting about a book in which, maybe 2 chapters in, the female protagonist had two guys in love with her and we hadn't even met the third main one. Whose reality is this? Now, if she was a paragon of brains, wit, compassion, okay, maybe I could have sort of understood it. But the thing is, I didn't have any sense of her personality at all. She was female. I might have been given a description, which I fail to recall, but even though the book was written in first person, I couldn't flesh her out.
Which is where my friend explained about the magic vagina. And really, I can think of no other explanation for this character's appeal.
Thing is, it sounds so friendly, doesn't it? Make a wish on the magic vagina. Or maybe like a magic carpet. Hey, wanna take a ride on a magic vagina? Okay, maybe not.
I know it's hard to bring characters to life. And yes, we absolutely draw on archetypes. Mentor figure? Use it all the time. But I hope that my mentor characters have more going for them then some kind of exotic otherness that for some reason automatically confers wisdom or some kind of higher spirituality on them.
I write female characters in romantic comedy novels. Talk about a genre with the potential for stock characters. Klutzy girl in Manolo's anyone? My characters are teens and I think about this age group a lot and what kinds of fictional girls I want to be putting into the world since I know my daughter will be reading them at some point. I want my characters to be strong, I want them to be funny, I want them to be smart, I want them to be flawed, and I want them by the end of their journey to have the kind of empowerment and pride in themselves that will catapult them into being fabulous women.
So that's what I try and achieve. Without the use of the M.V.
That said, I'm thinking this magic vagina thing has potential as a series:
Magic vagina: Monte Carlo Nights
Magic Vagina: Grifter on the run
Magic Vagina: Home for the holidays
Publishers? Hollywood? Feel free to drive up that money truck.
Kidding …
Subscribe for bonus content and insider scoops!
Twittering away...
https://t.co/1UHQhm57rN Cautiously optimistic about the premise
- Wednesday Feb 21 - 9:20pm
SPOILER ALERT! A fabulous video that you absolutely SHOULD NOT WATCH if you have not yet seen The Good Place s1 fin… https://t.co/Jqf3UnxHg3
- Tuesday Feb 20 - 4:15am
Lose yourself in a funny, sexy urban fantasy romance! The Unlikeable Demon Hunter: Crave releases Feb 20 and to cel… https://t.co/WPcUSnVRRu
- Sunday Feb 18 - 4:56pm
Bet you didn't know you could pair tap dancing and Star Wars! https://t.co/GS2qzvH7nJ
- Friday Feb 16 - 8:45pm
Better late than never! Discovered the Haim Time podcast on Beats One. So good!
- Friday Feb 16 - 6:45pm
Tellulah's Old Darlings