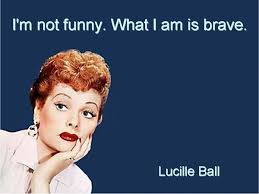 One question that quite rightly comes up in many interviews that I've done is "Which authors have influenced you?" And while I can definitely toss off a handful that have, I've always felt like there was something missing from my answer, but I never quite knew what it was.
Until the other night.
That's when I caught Carol Burnett winning the Mark Twain Prize for American Humor. I started watching all her old sketches from her variety show and I realized that what shaped my sense of humour (aside from my family) was watching the great funny women of American television. Lucille Ball, Carol Burnett, Mary Tyler Moore, Bea Arthur, Isabel Sanford, Betty White, Candice Bergen, Phylicia Rashad, Roseanne – these funny women from the golden era of TV through the Norman Lear sitcoms of the 70s and on into the 90s influenced my comedic sensibility more than any author had.
As much as I have been a crazy avid reader my entire life, I wasn't reading comedy. That addiction was fulfilled for me through TV and film. But while film tended to be a more male domain, with male protagonists found in Billy Wilder, Neil Simon, Woody Allen, and Mel Brooks, to name a few, (even the John Hughes comedic characters were male), it was the women who ruled the small screen.
That's where I saw these smart, modern, fearless woman who went after their hearts' desires, be it love, family, career or some mix of all three, always with the perfect quip or hilariously telling look. And yet, I always believed that they were letting us in on the joke. Letting us laugh with them and definitely not at them.
Lucille Ball's quote about being brave not funny really resonated with me. Because these women were brave. Like Lucille Ball willing to go to any character place for the sake of the goal without fear of how she looked or whether she was embarrassing herself. Vitameatavegamin, anyone? (I lived with Comedy Improvers for many years – I saw how a lot of women were sadly, too self-conscious to abandon themselves into the comedy like the guys were.)
Like Mary Tyler Moore, refusing to dampen her unflinching optimism and reach her potential in the newsroom despite what people thought her place was but always with good cheer and good humour, able to see the absurdity in the most inappropriate places (Chuckles the Clown's funeral). Or Claire Huxtable, the epitome of the women who had it all – a successful lawyer, mom to multiple kids, who demanded respect and took life in stride with an easy sass. These women laid it all out there and were fabulous for doing so.
I wanted to be like them when I grew up.
I'm not. I mean, there is no way to be, really. I don't have a small team of experts to make me up or a writing staff to ensure I always hit the perfect comeback. There's no laugh track  in my world – especially when I lose it – which my daughter will assure you does happen. And yet …
It's because of these funny women that I love writing smart, mouthy girls. Because in my stories, my girls can be fearless where I might falter. Mouthy, where I might stay silent. Funny, where my joke falls flat. They get to be everything that I ever saw and aspired to.
I watch my own daughter these days, interested in the comediennes who draw her in. There's not a lot of TV that she's interested in, but one of her favourite shows is The Big Bang Theory. She loves Penny and was so thrilled when "science girls" Amy and Bernadette were added. She watches those women with the same glee that I watched mine.
And that makes me really happy. Because as much as I love creating fictional girls, seeing my real one grow up smart, funny and (I hope) fearless in going after her heart's desires is the best feeling of all.
Subscribe for bonus content and insider scoops!
Twittering away...
https://t.co/1UHQhm57rN Cautiously optimistic about the premise
- Wednesday Feb 21 - 9:20pm
SPOILER ALERT! A fabulous video that you absolutely SHOULD NOT WATCH if you have not yet seen The Good Place s1 fin… https://t.co/Jqf3UnxHg3
- Tuesday Feb 20 - 4:15am
Lose yourself in a funny, sexy urban fantasy romance! The Unlikeable Demon Hunter: Crave releases Feb 20 and to cel… https://t.co/WPcUSnVRRu
- Sunday Feb 18 - 4:56pm
Bet you didn't know you could pair tap dancing and Star Wars! https://t.co/GS2qzvH7nJ
- Friday Feb 16 - 8:45pm
Better late than never! Discovered the Haim Time podcast on Beats One. So good!
- Friday Feb 16 - 6:45pm
Tellulah's Old Darlings