Hello, lovelies!
Back in June, I promised everyone who pre-ordered Get Real a giveaway treat, now it's time to deliver. This is the book of my heart and I'm so excited for it to get out into the world.
And it's as easy as 1-2-3!
FROM NOW UNTIL SEPTEMBER 25, 2015 (because the book releases on September 26):
Take a screenshot or photo of your Get Real pre-order receipt.
Email it to me at td@tellulahdarling.com.
Let me email you my exclusive original romantic comedy short story Better Than Chocolate. (4 out of 5 hopeless romantics agree it's filled with sass and swoon. Plus it's totally stand-alone with no connection to any of her existing worlds.)
That's it! It's that simple.
BUT WAIT THERE'S MORE!!!
BOOK PIMP SPECIAL! The first 50 people to:
Convince a friend to pre-order Get Real.
Tell the friend to send their screenshot/photo to td@tellulahdarling.com for their short story and mention your name as their book pimp.
Will receive from me (in thanks for book pimpage) one of these limited edition (first 50 people part) truly awesome wristbands, containing a quote by the very swoony Rafael. Look. Here's a photo of one:
And I'll autograph it for you.
Need to pre-order? ON SALE FOR THIS GIVEAWAY AT 99 CENTS!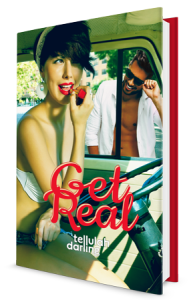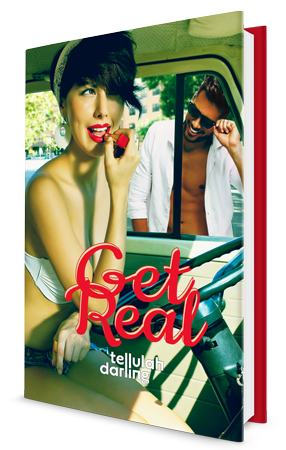 So get ordering and get your fab swag today. All the good karma in the universe to you for spreading the word about Get Real and helping it launch with a bang!
xo
Tellulah
Subscribe for bonus content and insider scoops!
Twittering away...
https://t.co/1UHQhm57rN Cautiously optimistic about the premise
- Wednesday Feb 21 - 9:20pm
SPOILER ALERT! A fabulous video that you absolutely SHOULD NOT WATCH if you have not yet seen The Good Place s1 fin… https://t.co/Jqf3UnxHg3
- Tuesday Feb 20 - 4:15am
Lose yourself in a funny, sexy urban fantasy romance! The Unlikeable Demon Hunter: Crave releases Feb 20 and to cel… https://t.co/WPcUSnVRRu
- Sunday Feb 18 - 4:56pm
Bet you didn't know you could pair tap dancing and Star Wars! https://t.co/GS2qzvH7nJ
- Friday Feb 16 - 8:45pm
Better late than never! Discovered the Haim Time podcast on Beats One. So good!
- Friday Feb 16 - 6:45pm
Tellulah's Old Darlings