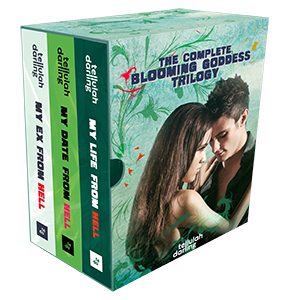 Perfect for fans of Meg Cabot, Rachel Hawkins, and everyone who loves their kickass girls sassy and their infuriating gods swoony.
The Persephone myth gets a YA romantic comedy makeover when a slacker teen girl receives a midnight kiss from a bad boy and discovers that she's actually Persephone, Goddess of Spring. Somehow she's got to save humanity in the war between Hades and Zeus, survive God-ordered assassination attempts, deal with mean girls and teen drama, and stop being kissed by the aforementioned bad boy, a.k.a. Kai, Prince of the Underworld.
Compared to Kai and Sophie, Romeo & Juliet had it easy.
The Complete Blooming Goddess Trilogy contains: My Ex From Hell (#1), My Date From Hell (#2), A Date of Godlike Proporitions (short story #2.5), and My Life From Hell (#3)
**The Complete Blooming Goddess Trilogy is available exclusively for Kindle.