My Ex From Hell
(#1)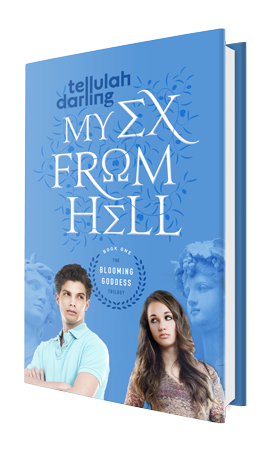 Romeo and Juliet had it easy.
Prior to the Halloween dance, Sophie figures her worst problems involve adolescent theatrics, bitchy teen yoga girls, and being on probation at her boarding school for mouthy behaviour. Then she meets bad boy Kai and gets the kiss that rocks her world.
Literally.
This breath stealing lip lock reawakens Sophie's true identity: Persephone, Goddess of Spring. She's key to saving humanity in the war between the Underworld and Olympus, target numero uno of Hades and Zeus, and totally screwed. All she's gotta do is master her powers, save the world…
…and stop kissing Kai, Prince of the Underworld.
My Ex From Hell retells the Persephone legend in this YA romantic comedy book. It's a Greek mythology smackdown, perfect for everyone who loves sassy girls that kick butt and the bad boys who infuriate them.
Reader Reviews of My Ex From Hell
Jaime (Fiction Fare)
I'm not sure that this book could have been more perfect. Sophie Bloom… I'm not even sure how to describe her other than to say I wish that she and I were friends in High School… I think it would have been a whole lot more fun, and a lot more exciting.
Kristen (Seeing Night Reviews)
It's a relief to get some sense of humor in a story that has a mix of mythology, magic, and romance. I felt that the young adult books were are starting to blend together and this one definitely stands apart because of the writing and lighter tones that kept me laughing. There is a ton for readers to enjoy, with side characters that stand out, action packed fight scenes, magic, great villains and of course hints of romance!
Dayla (Confessions of a Book Addict)
Full of modernized mythological adaptations (it was cool recognizing mythological figures along the way!), fantastically relatable characters (give or take the magic), and dialogue so witty that you have to pause your reading, Darling's novel is a must read young adult novel.
Emily (Book Jems)
Tellulah spins mythology brilliantly and makes My Ex From Hell the funniest retelling I've ever read.
Shayna Varadeaux (Shayna Varadeaux Books)
It's a breath of YA fresh air and so fun to read. I adore Sophie and her attitude, she's smart and considerate yet stern and determined. She is quirky and surprisingly her thoughts are kinda violent so she's a "bad A" too not to mention her, Hannah and the adorable Theo are hilarious! … love Greek Mythology and this is a great spin on it completely unique I think and I LOVE IT!!
Find more reviews on Goodreads.
My Date From Hell
(#2)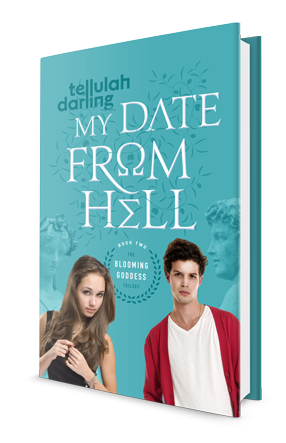 Whatever happened to dinner and a movie?
With Zeus stepping things up, it's vital that Sophie retrieve Persephone's memories and discover the location of the ritual to stop Zeus and Hades. So when Aphrodite strikes a deal that can unlock Sophie's pre-mortal past, what choice does the teen goddess have but to accept?
The mission: stop media mogul Hermes from turning mean girl Bethany into a global mega-celebrity. The catch? Aphrodite partners Sophie and Kai to work together … and treat this suicide mission as a date. Which could work out for Sophie's plan to force Kai to admit his feelings for her–if she doesn't kill him first.
The fireworks continue to fly in this Greek mythology, YA romantic comedy book My Date From Hell. Love meets comedy with a whole lot of sass in book two of this teen fantasy romance series. Breaking up is easy; dating is deadly.
Reader Reviews of My Date From Hell
D. Donovan, Senior eBook Reviewer, Midwest Book Review Teens who appreciate humor and spicy romance in their reading will find My Date From Hell is packed with fun interplays between gods, goddesses, mortals, and personal agendas….Add a gay best friend, the wrath of Aphrodite, and an unholy alliance between Zeus and Hades and you have a plot loosely based on the Greek Gods, but with many modern twists and turns….Many an adult fantasy reader will find these sassy romance and encounters refreshingly different and fun.
Michelle (Book Briefs/Top 1000 Reviewer Amazon) The dialogue in My Date From Hell was witty and snappy and extremely enjoyable. I liked the brisk pace of the story and I liked how funny the characters were. She reminds me of Meg Cabot, with all of her wise cracks and pop culture references. (and anyone that knows me, knows that is a HUGE comparison. I LOVE Meg Cabot!
Stacee (Adventures of a Book Junkie) Rec It? A million times yes. My Date From Hell continues the awesome journey that Sophie is on. If you love snarky girls, swoony gods and delicious banter on almost every page, this is for you.
Jess (Such a Novel Idea) Can Tellulah Darling do what so many authors fail to do — write a stellar sequel that matches (or surpasses) a first book in a series? The answer is yes, yes she can. Sophie is just the best. Tellulah Darling is a fantastic writer with wit and spunk who breathes so much life into her characters.
Ginny Lurcock (Ginnylurcock.com) Seriously though, Tellulah has this brilliant ability to blend mythological characters with new and unique modern personalities so that we end up with a gay hipster with a limp who is such an awesome character that I want to have him over for drinks and pizza. And Festos is just the tip of the iceberg here!
Simi (Gay YA) It surprised me, somewhat, that such a rapid, action based, intensely plot-driven book had the time or the effort to pull off characters that had so much depth and variety in terms of emotions and backgrounds.
Find more reviews on Goodreads.
A Date of Godlike Proportions
(#2.5)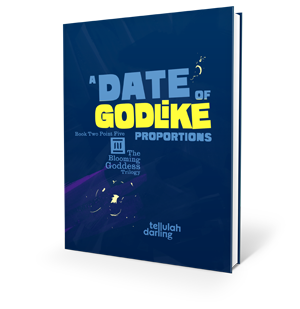 There's bound to be pressure when it takes 2500 years to get to a second date. Which is exactly why Theo Rockman, a.k.a. Prometheus, would rather not go. With his best friend gravely injured and the fate of humanity still on the line, Theo has all sorts of creative excuses to avoid dating swoon-worthy god and love of his life, Hephaestus. YA romantic comedy gets an epic mythological twist in the free (at select retailers) short story A Date of Godlike Proportions (The Blooming Goddess Trilogy Book 2.5). Being human hasn't killed Theo, but this date just might. NOTE: This m/m romance is a companion story to The Blooming Goddess Trilogy. Sophie takes a backseat in this one to let us have some Theo time. But she's back again in My Life From Hell, the final book in this series.
This companion short is only available to subscribers to my Temple o' Delights so sign up today. 
My Life From Hell
(#3)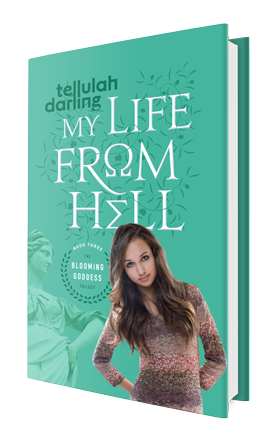 Save herself; save the world. Humanity may be screwed.
To say that Sophie Bloom is at the top of her game with one only week until Spring Equinox and the final showdown with Zeus and Hades would be, well, lying. The Goddess of Spring feels more like the Goddess of Bzzz, Thanks For Playing than the savior of humanity. And could her relationships be any more messed up?
Good times.
Sophie is convinced that things can't get any worse than crawling back to her mother Demeter and begging for help. But she's about to find out how very wrong she is.
It's a race against time for Sophie to implement the big battle strategy in the series finale of this Greek mythology, YA romantic comedy book My Life From Hell. A perfect read for everyone who loves sassy girls who kick butt and the bad boys that infuriate them.
Reader Reviews of My Life From Hell
Nicole Hewitt (Feed Your Fiction Addiction)
In the end, Sophie learns some pretty important lessons about herself and about what's really important. The final battle wasn't won in the way I expected at all, and Sophie's premonitions all come true in ways that were surprising too. I don't want to spoil what happens or what Sophie's conclusions were, but suffice it to say that Darling put some powerful messages in her book that really lifted the series to a new level.
Eleanor (The Book Hammock)
My Life From Hell was a great conclusion to the trilogy and Sophie and Kai's story. I can summarize this book as a great mythology meets modern humor story, wonderfully happy, funny, action packed with a HEA that leaves a sweet taste. And don't forget all the Kai swoons. That boy… och. I love him.
Jessica (Lovin Los Libros)
If you're a fan of mythology and snarky, sassy teenagers these are the books for you! Darling has done such an awesome job of transforming the Persephone myth and giving it some flair! … You get a snarky heroine, a sexy, swoon-worthy love interest, lots of kissing, a great group of friends that will make you laugh out loud, a new twist on mythology, AND did I mention LOTS OF KISSING?
Tabitha (Bullets and Bows) –
I can't express how thrilled I am to have had the opportunity to read this amazing series and how utterly sad I am to see it end. I feel the textbook definition of a book hangover. What am I supposed to do now?.
Find more reviews on Goodreads.
The Complete Blooming Goddess Trilogy
(Box Set)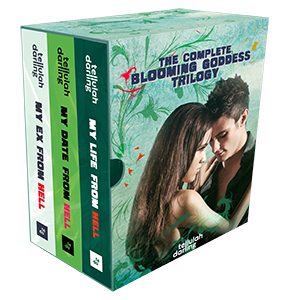 Perfect for fans of Meg Cabot, Rachel Hawkins, and everyone who loves their kickass girls sassy and their infuriating gods swoony.
The Persephone myth gets a YA romantic comedy makeover when a slacker teen girl receives a midnight kiss from a bad boy and discovers that she's actually Persephone, Goddess of Spring. Somehow she's got to save humanity in the war between Hades and Zeus, survive God-ordered assassination attempts, deal with mean girls and teen drama, and stop being kissed by the aforementioned bad boy, a.k.a. Kai, Prince of the Underworld.
Compared to Kai and Sophie, Romeo & Juliet had it easy.
The Complete Blooming Goddess Trilogy contains: My Ex From Hell (#1), My Date From Hell (#2), A Date of Godlike Proporitions (short story #2.5), and My Life From Hell (#3)
**The Complete Blooming Goddess Trilogy is available exclusively for Kindle.