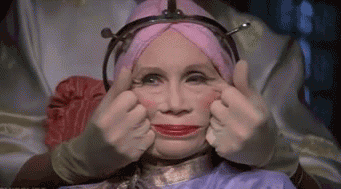 Welcome to the new and fabulous look for tellulahdarling.com! I'm happy to report that my virtual facelift ended up a lot prettier than the one above! I need to send an enormous shout out to my goddess designer Siobhan Devlin. Siobhan is one of my oldest and dearest friends. Which on the plus side (for me) means she gets me in a way that results in creative gorgeousity for all things Tellulah. But on the downside (for her) I think I probably drive her nuts like few people in the world.
This was in evidence at our meetings for what the site would look like. See, I suck at speaking any kind of visual language. After several misfires, and a heap of tense email exchanges, I finally said, "you know my tagline? The sassy girls? Build it around that." She looked at me, nodded, and said "Okay. I can do that."
And voilà! My fabulous new look was born. So she gets all the love for this.
What do you think? Poke around. Be nosy. Then let me know if you like it. And while you're here, enter to win the swoony boys swag pack – a signed copy of all my novels: Sam Cruz's Infallible Guide to Getting Girls, My Ex From Hell, My Date From Hell and My Life From Hell. If you've got a friend who's been wanting to check them out, send them over. Everyone can enter. It's international, darlings!
You have until midnight Sunday, so get to it.
It's good to be back. I missed you! xo Tellulah
Subscribe for bonus content and insider scoops!
Twittering away...
https://t.co/1UHQhm57rN Cautiously optimistic about the premise
- Wednesday Feb 21 - 9:20pm
SPOILER ALERT! A fabulous video that you absolutely SHOULD NOT WATCH if you have not yet seen The Good Place s1 fin… https://t.co/Jqf3UnxHg3
- Tuesday Feb 20 - 4:15am
Lose yourself in a funny, sexy urban fantasy romance! The Unlikeable Demon Hunter: Crave releases Feb 20 and to cel… https://t.co/WPcUSnVRRu
- Sunday Feb 18 - 4:56pm
Bet you didn't know you could pair tap dancing and Star Wars! https://t.co/GS2qzvH7nJ
- Friday Feb 16 - 8:45pm
Better late than never! Discovered the Haim Time podcast on Beats One. So good!
- Friday Feb 16 - 6:45pm
Tellulah's Old Darlings