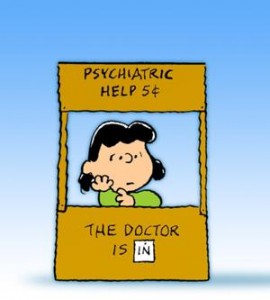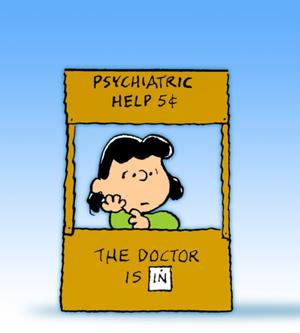 When I was a kid, my mom called me Lucy because I looked like Lucy Van Pelt. Yup, that's right. My sole claim to celebrity lookalike fame is a cartoon character. I believe that that fact, coupled with me writing romantic comedies, totally makes me qualified to be a love doctor. Also, if I was a doctor, I'd get major family cred and maybe eclipse my golden boy lawyer brother.
So, I'm setting up shop.
I'll be advising the unlucky in love, the forlorn, the desperate – no question to weird or wild for me when it comes to affairs of the heart. And my speciality will not be a Freudian or Jungian approach. Nope, I'll be basing my advice on how love plays out in romantic comedies. Because those people always get their happily-ever-after. And that's good enough for me.
The doctor is in. Let's give a warm round of applause for Dr. Darling's first counselling session.
Now, I just need a letter… Ah! Here's one. (Seriously, someone sent me a letter. How great is that?)
Dear Tellulah,
So there's a boy. I met him through mutual friends. We've hung out now as a group a few times. He seems interested — there's definitely chemistry. But he hasn't asked for my number. Should I ask my friends for his? I don't want to come on too strong — but he does seem shy. Or is this a total turn off?
Yours,
Falling-in-Like
Oh good. I like starting with an easy one. Definitely do NOT ask his friends for his number. Where the hell's the fun in that? No, it's time to take a page out of Bridget Jones' Diary for this one.
Step 1: Find a hot, charming cad to begin a clandestine, torrid affair with, while pining from afar for your boy.
Step 2: Make sure said boy notices that you are involved with cad. This will peak his interest even further.
Step 3: At various social functions, and whenever possible publicly, make a fool of yourself in a charming, endearing way. This will allow his "damsel in distress" (DID) impulses to kick in, thereby trumping his shyness.
Step 4: Break up with cad. Make sure boy knows this. Even better, contrive to be around boy as you wish that just once a great guy would ask you out.
Step 5: If necessary, buy boy drinks as you undertake step four.
Step 6: Allow his DID impulses to reach their natural conclusion as he kisses you.
Step 7: FIREWORKS
Step 8: Live happily-ever-after.
There. If that doesn't work, then I don't know what will.
What do you all think? Leave your comments and better still, your questions. (Because, you know, I want to be able to do another one of these sessions.)
Until next time,
I'm Doctor Darling and I wish you all love.
Subscribe for bonus content and insider scoops!
Twittering away...
Husband just remembered that once, when asked what she wanted to be when she grew up, my kid replied, "I wanna be on stilts!" #soproud
- Friday Feb 23 - 9:25pm
https://t.co/1UHQhm57rN Cautiously optimistic about the premise
- Wednesday Feb 21 - 9:20pm
SPOILER ALERT! A fabulous video that you absolutely SHOULD NOT WATCH if you have not yet seen The Good Place s1 fin… https://t.co/Jqf3UnxHg3
- Tuesday Feb 20 - 4:15am
Lose yourself in a funny, sexy urban fantasy romance! The Unlikeable Demon Hunter: Crave releases Feb 20 and to cel… https://t.co/WPcUSnVRRu
- Sunday Feb 18 - 4:56pm
Bet you didn't know you could pair tap dancing and Star Wars! https://t.co/GS2qzvH7nJ
- Friday Feb 16 - 8:45pm
Tellulah's Old Darlings