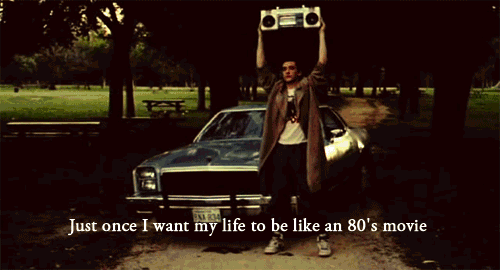 And now, one male reader's life CAN be like an 80's movie as I answer his letter of love woes by reaching back into the romantic comedy time vault.
Dear Tellulah, 
I have always wanted facial hair. Just the thought of myself with a Chuck Norris beard makes me giggly. And it's finally starting to grow. But this is ill-timed because I've also met the man of dreams – a guy who is so synchronized with me on every wave-length that it feels as though we are kindred spirits. Except for one thing. He hates the beard. He's also pictured himself to be with a clean-shaven man, one whose jaw he can nuzzle without getting beard-burn. What should I do? Should I deny my inner Chuck Norris? Or do I keep the facial hair but shave off any chances of true love? 
Yours truly,
Scruffy and Sad. 
Hey there Scruffy, don't be sad. Because we're turning to that classic McDreamy flick Can't Buy Me Love for the answers to your problems. We all remember that one, right? A young McDreamy, who is more a McNerdy pays $1000 to queen bee Cynthia to rent her as his girlfriend. Popularity, feelings, and mayhem ensue.
So what can we learn from this?
1) Definitely shave the beard. Because you need to go through a romantic romp before you (and your love) can realize that you need to be true to your selves. So start with being shallow and needy. More fun for all.
2) Take that clean shave and let your two hearts become one with Mr. Right. Share your dreams. Smile engagingly when he reads you that poem he's never shared with anyone else. Bond over your parental/peer/work woes.
3) Totally lose yourself in him. Forget about your own friends and only hang out with his.
4) Then, when he wants to take things to the next level, epically misunderstand him. Think he's dumping you. Behave horribly.
5) Now, faithful reader, you can start to channel your inner Chuck Norris – not just in terms of facial hair but rage. And inappropriate behaviour. Really act out. But live by Chuck's credo "I don't initiate violence. I retaliate."
6) Face public humiliation at Mr. Right's hands. Lose it all.
7) After 3AM moment of soul searching, redeem yourself with the realization (and neatly groomed beard) that you need to be yourself. Because, hey man, isn't that what it's all about?
8) Go for coffee with Mr. Right as tentative new stage in your relationship starts, thus getting the boy and the beard.
Easy peasy.
Until next time,
I'm Doctor Darling and I wish you all love.
And keep sending in those letters with your love woes!
RELATED LINKS:
5 dating strategies to avoid at all costs if you want to find love. No, seriously.
Tellulah Darling dishes romantic comedy advice for your love woes.
Subscribe for bonus content and insider scoops!
Tellulah's Old Darlings