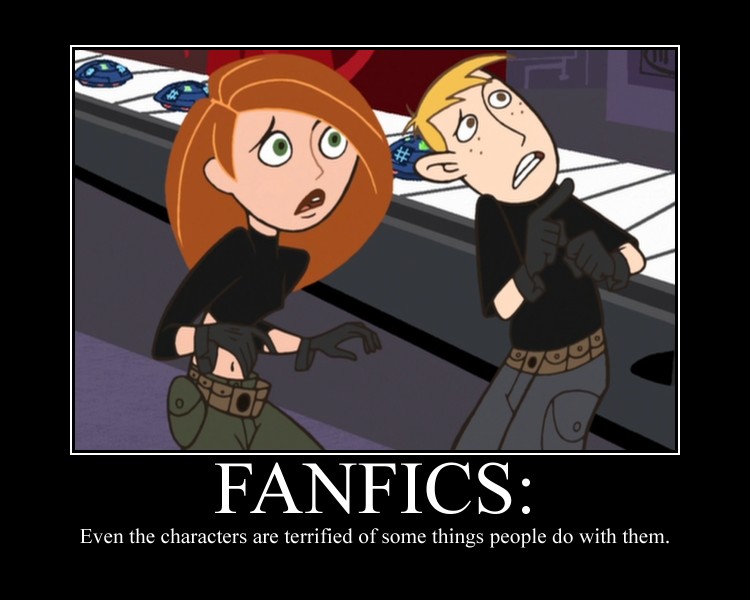 Once upon a time, in the dark ages, before fanfic had a name, or internet communities, two friends couldn't contain their love of various rock stars and celebrities and decided to write a story. That was the title "the story". Brilliantly original and setting the stage for the quality to follow.
Each of the friends set off, writing their own epic novel (because these stories turned into beasts), spanning hundreds of pages and starring themselves at the centre of many varied, passionate and turbulent love affairs. There was no theme, no character growth, and no plot beyond hook ups and break ups. There was humour though. Even back then, one of the authors couldn't write about love without cracking jokes.
Surprise reveal: I was one of the writers. Yeah, yeah, I know you knew this. I shudder just thinking about that weighty tome, and am very glad my story has been lost in time. Hopefully at the bottom of a dark well. Although, I would be rather curious to see how many of all the sexytime details I got very wrong. Or very right. I've always been such a creative girl.
Despite how cringe-worthy this soap fest must have been, despite how much I've repressed so as not to suffer a kind of writer's PTSD, one thing remains crystal clear. The excitement of sharing the story. Every couple of nights, one of us would faithfully phone up the other person and ask "did you write?" The answer, for the better part of a couple of years, was always "yes." I would pick up my fat blue binder, with the precious pages contained within, shut the kitchen door and make myself comfortable on the mid-century wooden rolling chair next to the phone table. I'd wrap the impossibly long cord my hand, prop my feet up on the side of the island and settle in.
We took turns being the first to read. If I was up, I'd faithfully read all my new pages over the phone. I'll never forget the rush of hearing her laughter, gasps and "that's it?" once I'd finished. There was something so visceral, so alive about that connection.
Interestingly though, when I think back on that time, what I realize is that what I loved even more, was being on the receiving end of her storytelling. I would get fluttery with excitement waiting to hear what adventures she'd taken us on next. The phone cradled between my shoulder and ear, I would close my eyes and fall into the sound of her telling me her story. Just a writer's voice coming down the line to wrap her story around her audience of one.
I was thinking about all this the other day as I looked at the list of books I had on hold at the library. I think there was about thirty of them, and I was switching between the library and Amazon on my browser, checking which had been released. Were there any I wanted to buy and read faster. And then I stopped. I realized that as much as I love reading, my consumption of them has become voracious. I plow through them as fast as I can, loving or hating them and moving on. Even the ones that stay with me after I've gotten to the end? I don't linger on them for more than a day or two before I'm off  in search of my next read.
In that moment, I remembered how precious the gift of storytelling was. What a wondrous thing it was to be handed this fully formed world straight from someone's imagination. Please know that I'm not saying this as a writer. This isn't some kind of "you should all be grateful that writers exist." Rather it was a reminder to myself to savour these stories. To enjoy that connection I have to these characters and this story and that author every time I crack open a book.
But yes, I am also a writer. So it was also to remind myself, that if I am going to take one thing away from this, it's that, maybe someone out there has felt that fluttery excitement wondering what comes next in my stories. There are millions of books out there to choose from. So for everyone who choose mine, know that I hold your choice close and precious.
Now, off to find my next read. And try to take it slow.
Subscribe for bonus content and insider scoops!
Twittering away...
https://t.co/1UHQhm57rN Cautiously optimistic about the premise
- Wednesday Feb 21 - 9:20pm
SPOILER ALERT! A fabulous video that you absolutely SHOULD NOT WATCH if you have not yet seen The Good Place s1 fin… https://t.co/Jqf3UnxHg3
- Tuesday Feb 20 - 4:15am
Lose yourself in a funny, sexy urban fantasy romance! The Unlikeable Demon Hunter: Crave releases Feb 20 and to cel… https://t.co/WPcUSnVRRu
- Sunday Feb 18 - 4:56pm
Bet you didn't know you could pair tap dancing and Star Wars! https://t.co/GS2qzvH7nJ
- Friday Feb 16 - 8:45pm
Better late than never! Discovered the Haim Time podcast on Beats One. So good!
- Friday Feb 16 - 6:45pm
Tellulah's Old Darlings