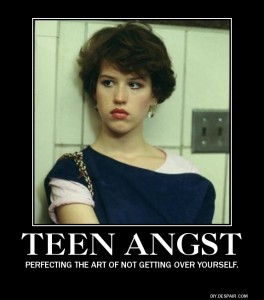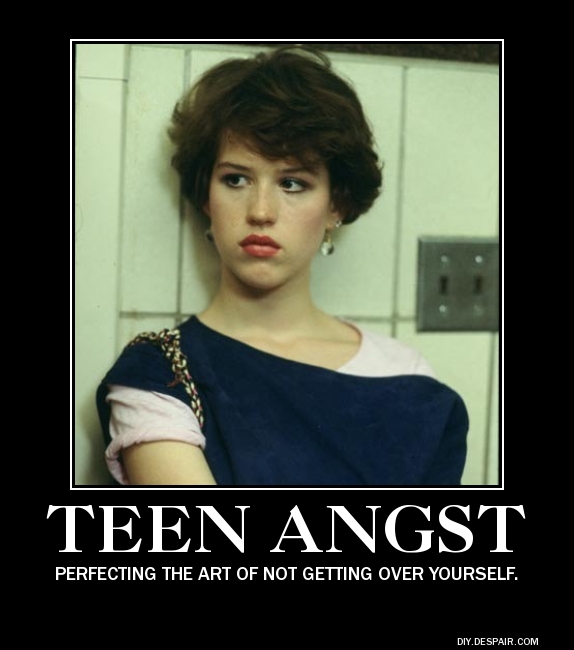 Teens, I love you. I love your passion, and your enthusiasm, and your mouthiness, and your sense of infallible immortality and mega possibility. I write about you, I read about you – you are truly wonderful people.
And yet …
You should not write poetry. Or maybe, it was just that I should never ever have been allowed to write poetry as a teenager. This past weekend, I was looking for some old travel journals and came across a "treasure trove" (i.e. painful stash) of teen poetry written by yours truly. It is all so profoundly angsty (ahngnsty), so brim full of pseudo-intellectual (misguided) superiority at my own cleverness.
And did I mention the angst? So, darlings, I thought I'd share. Let you have a laugh at my expense. And help you to understand why I stick with comedy.
*drum roll*
A Pocketful of Angst (by teen Tellulah Darling – I swear to God, I actually called it this. I couldn't make this crap up.)
A pocketful of angst
Is somewhat akin to a pocketful of lint
But it weights less.
I often find angst in my jeans after they've come out of the dryer
Or in from the sun
Stiff and crinkly
It's best to check the lint drawer
I found a quarter in there once but I think I spent it
Mom often warns me about carrying too much angst
Like loose change
"You might get robbed" she chides
But I smile knowingly
Angst is a personal thing
And I wear mine like a pair of favourite jeans
Faded and patched
But none the worse for wear
*DYING* here. Please be laughing with me not at me. Though, who am I kidding?
xo
Tellulah
Subscribe for bonus content and insider scoops!
Twittering away...
https://t.co/1UHQhm57rN Cautiously optimistic about the premise
- Wednesday Feb 21 - 9:20pm
SPOILER ALERT! A fabulous video that you absolutely SHOULD NOT WATCH if you have not yet seen The Good Place s1 fin… https://t.co/Jqf3UnxHg3
- Tuesday Feb 20 - 4:15am
Lose yourself in a funny, sexy urban fantasy romance! The Unlikeable Demon Hunter: Crave releases Feb 20 and to cel… https://t.co/WPcUSnVRRu
- Sunday Feb 18 - 4:56pm
Bet you didn't know you could pair tap dancing and Star Wars! https://t.co/GS2qzvH7nJ
- Friday Feb 16 - 8:45pm
Better late than never! Discovered the Haim Time podcast on Beats One. So good!
- Friday Feb 16 - 6:45pm
Tellulah's Old Darlings