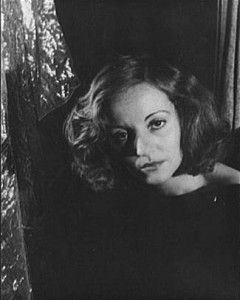 Why: She was a hell of a character.
I never said my darlings were all fictitious…
Today I must relate the wonderful and I hope, true, story of when Tallulah met Chico Marx. Chico was a famed womanizer and when he saw Tallulah at a party, decided he had to meet her. Groucho tried to impress upon him that she wasn't like the other girls he usually slept with. Tallulah came from a prominent Alabama family. Her uncle and grandfather were Senators and her dad was a Representative and Speaker of the House. In otherwords "She's a lady, Chico." "Yeah, yeah," Chico replied "I get it." Again Groucho insisted "Behave yourself. Be a gentleman because she's a lady, and I stress the word lady." "I'm a gentleman," Chico assured him. "Don't worry about it."
So Groucho takes Chico over to meet her and Chico immediately says "I want to f**k you." Without missing a beat, Tallulah replies "And so you shall, you dear, old-fashioned, boy."
I can only dream of aspiring to writing characters in my romantic comedies that deft with a zinger. Tallulah, you were a whole lotta fabulous!
Subscribe for bonus content and insider scoops!
Twittering away...
SPOILER ALERT! A fabulous video that you absolutely SHOULD NOT WATCH if you have not yet seen The Good Place s1 fin… https://t.co/Jqf3UnxHg3
- Tuesday Feb 20 - 4:15am
Lose yourself in a funny, sexy urban fantasy romance! The Unlikeable Demon Hunter: Crave releases Feb 20 and to cel… https://t.co/WPcUSnVRRu
- Sunday Feb 18 - 4:56pm
Bet you didn't know you could pair tap dancing and Star Wars! https://t.co/GS2qzvH7nJ
- Friday Feb 16 - 8:45pm
Better late than never! Discovered the Haim Time podcast on Beats One. So good!
- Friday Feb 16 - 6:45pm
SNL, why did you cut this?! https://t.co/zW8qYyVfc0
- Tuesday Feb 13 - 12:45am
Tellulah's Old Darlings