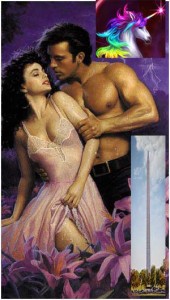 I am a proud swoon and smut reader, a.k.a. romance. I'm not talking 50 Shades, which I couldn't even muster past chapter one, although I have no problem with erotica. Even just general romance tends to contain enough steam to fog things up. Especially if the author throws in some witty romantic comedy type banter as foreplay.
I'm good with that. And I could care less about the looks of disdain I get from some people when I tell them I enjoy reading romance. That somehow, despite the fact that we all (I'm guessing) want love and not a dead body in our lives, it's "trashy" or "beach read" to read stories about love but perfectly acceptable to read a mystery. I read everything and I'm not about to be ashamed of this. Screw 'em.
However … I have to say, I hate sitting in public with the kind of cheesy romance cover found above.
Because Holy Hannah, do I get judged. (Okay, yes, I may have taken some phallic liberties with the cover but c'mon. That's what everyone is thinking. Not that I blame them. The covers are crap!!) And that's why I bought an ereader.
Anonymity, bitches.
The history of reading romance, is a history of shame. I need my romances to decompress because on any given day my current project/parenting/having to stop an asteroid from hitting the earth is really stressful. And I just want a little love (and hot alpha males making moves) without feeling like I need to justify myself.
I want to be able to read about these men proclaiming their women "mine" (a word which uttered aloud would result in a) laughter and/or b) a restraining order – but that's why we have books), read about them doing all kinds of fabulous, unspeakable things in the heat of passion – even if I'm riding the bus, all without shame.
So forget the arguments about ereaders being lighter to carry, holding more books, blah blah blah.
The real reason for the existence of these puppies is to get our fix anytime, anywhere, any place.
Now you're gonna be wondering what I'm reading next time you see me, aren't you? Well, if you're very good, I'll let you see the juicy passages.
SEE ALSO:
Take the "love story in 10 songs" challenge
Subscribe for bonus content and insider scoops!
Twittering away...
SPOILER ALERT! A fabulous video that you absolutely SHOULD NOT WATCH if you have not yet seen The Good Place s1 fin… https://t.co/Jqf3UnxHg3
- Tuesday Feb 20 - 4:15am
Lose yourself in a funny, sexy urban fantasy romance! The Unlikeable Demon Hunter: Crave releases Feb 20 and to cel… https://t.co/WPcUSnVRRu
- Sunday Feb 18 - 4:56pm
Bet you didn't know you could pair tap dancing and Star Wars! https://t.co/GS2qzvH7nJ
- Friday Feb 16 - 8:45pm
Better late than never! Discovered the Haim Time podcast on Beats One. So good!
- Friday Feb 16 - 6:45pm
SNL, why did you cut this?! https://t.co/zW8qYyVfc0
- Tuesday Feb 13 - 12:45am
Tellulah's Old Darlings