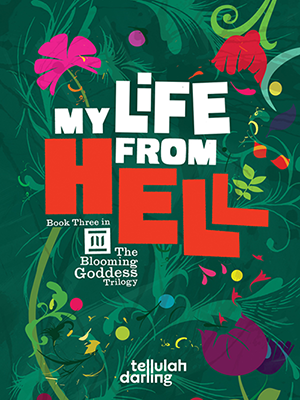 Excerpt from My Life From Hell (The Blooming Goddess Trilogy Book Three):
Of all the Prince of Darkness' powers, his best were his bone-melting super-kisses. Which is why, when my boyfriend Kai, (formally known as Kyrillos, son of Hades, Lord of the Underworld) pushed me up against my bedroom wall with a liplock of mind whacking proportions, I didn't do much other than grip his shoulders, try to stay in an upright position, and willingly participate.
But as right as it felt, I also knew that it was very very wrong.
"We have to talk," I gasped as I came up for air.
"Overrated," Kai murmured, nudging his hips up against mine. Instead of talking, he opted for Plan B, which was pretty much a new and improved version of Plan A. His hand clasped the back of my head to pull me closer.
If I pressed myself any harder against him, I'd be behind him.
Maybe that would be a good thing. Then I wouldn't be distracted by things like the way his stupidly gorgeous-lashed eyes fixated on me, their normal espresso brown darkened and full of heat.
Kai shook his head, flinging a wayward lock of dark hair out of his eyes. That just made me want to sink my hands into his hair. And like the most pathetic Pavlovian conditioning, one of my hands snaked up to twine my fingers into the curled ends just below his ears.
His breath caught at my caress.
Kai leaned forward and gave me the most fleeting, teasing kiss, his lips brushing mine. My stomach fluttered at hummingbird speed during that split second of connection.
Kissing, touching; our chemistry was off the scale.
Sadly, so was the weight of our baggage.
There you go darlings. A little taste of what's to come on March 20. And isn't the cover purdy? I'm so happy with it!! I promise you a wild ride with this book! FYI – it will be available for review on NetGalley on February 15. And I'd appreciate everything you fabulous people can do to spread the word about Sophie and the gang.
xo
Tellulah
Subscribe for bonus content and insider scoops!
Twittering away...
https://t.co/1UHQhm57rN Cautiously optimistic about the premise
- Wednesday Feb 21 - 9:20pm
SPOILER ALERT! A fabulous video that you absolutely SHOULD NOT WATCH if you have not yet seen The Good Place s1 fin… https://t.co/Jqf3UnxHg3
- Tuesday Feb 20 - 4:15am
Lose yourself in a funny, sexy urban fantasy romance! The Unlikeable Demon Hunter: Crave releases Feb 20 and to cel… https://t.co/WPcUSnVRRu
- Sunday Feb 18 - 4:56pm
Bet you didn't know you could pair tap dancing and Star Wars! https://t.co/GS2qzvH7nJ
- Friday Feb 16 - 8:45pm
Better late than never! Discovered the Haim Time podcast on Beats One. So good!
- Friday Feb 16 - 6:45pm
Tellulah's Old Darlings