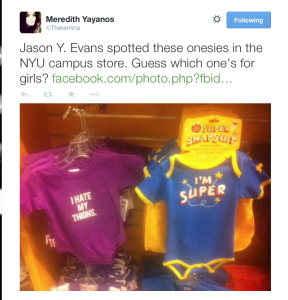 This photo showed up in my feed on Saturday (and thanks to Meredith Yayanos for letting me post it here). No surprise, I was enraged. I had one word for it.
Misogyny.
Merriam Webster defines misogyny as a hatred of women. Do I think that every person in the chain from concept to the stock person who created this display is a misogynist? Of course not. I'm betting that there were many opinions of the "thigh" onesie ranging from cute to funny, to disgusted, to no opinion whatsoever.
And that very range disturbs me. To me, the fact this onesie exists, especially if it was considered funny, is symptomatic of an underlying misogyny in our culture. And for those of you saying, "lighten up" and "get a sense of humour", I say no.
There are many many things appropriate and otherwise that I laugh at on a regular basis. And I think as a whole, North American society is fairly repressed and lacking in irony and the general ability to laugh at itself.
But there is nothing about this that is humorous. This onesie reinforces a notion that not only is girls' self-worth bound to our looks but that from birth, we are inherently flawed. It is a product of the same culture that produces T-shirts sold to teen girls which read "Sperm Dumpster". (I've seen them.)
It creates women who in buying those shirts, are reducing and cutting themselves down. I spent my life hating my body, no matter what size I was. And I am sick and tired of seeing gorgeous, beautiful females of every age, shape, and size doing the same. I am sick of living in a culture where we are told to measure up to not just an impossible standard of beauty but a fictional one. Yes, we all know the models are photoshopped but emotion, self-doubt, and other people's judgements of our attractiveness based on those standards trump logic. And to put this on a baby? I think of my fabulous seven-month-old niece ever wearing this (which would never happen) and I want to vomit.
For anyone in disagreement, look at the photo and tell me what the boys' onesie says. Yup. "I'm super." That's great! I love that boys are being told they're super. Why aren't girls? It's an insidious message that we females need to concentrate on what's wrong with us, while the boys should focus on what's right.
If it was so necessary to refer to a girl's look, how about a onesie reading, "Brains and beauty. The total package." How about simply "Freaking fantastic!"
Perpetuating these ideas are not cute. They're not funny. They are degrading. They are body shaming. They are hateful to women. They are misogynistic. They damage our mothers, our daughters, and our friends.
Now, I'm happy to report that the store stocking these atrocities swiftly removed them, as did apparently (I haven't checked) the manufacturer from its online store. So yay, for the social media hordes using their power for good.
And yay for all of us, men and women both, standing up and saying "This shit is not okay." We need great men and great women. So let's keep cultivating both.
This is Tellulah Darling saying, "You all rock!"
xo
Subscribe for bonus content and insider scoops!
Tellulah's Old Darlings