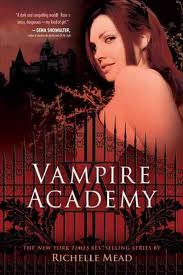 Why: she understands the importance of a female BFF.
You may be surprised that this is why I think Rose is great. I mean, she's funny, smart, and hugely kick ass. But here's the thing – lots of female protagonists these days have those qualities (yay!). And while I'm all for modelling empowering chicks, I also am a firm believer in showing the importance and value of female friendships.
Sure, Rose's friendship with Lissa is also bound up in her duty to protect her. But I firmly believe (and it's actually there because as a story, it's never constantly a given she'll be assigned to Lissa) that Rose would absolutely be there for Lissa in every way that counts whether she was her bodyguard or not. I even think it's wonderful that part of Rose's journey is to learn how to give more of herself in return.
I know that for me, I find it easier to be there for others than to let others be there for me. To fully let myself be vulnerable. I also know many other female friends who are the same way. There are so many stories that deal with the heroine having to open herself up to romantic love. But isn't platonic love with a good female friend just as important? I think so.
Remember too, that how other characters feel about our protagonist influences how we the reader see that person. So when crafting your main character having them be seen and appreciated for their fierce loyalty and friendship is going to help forge that emotional connection with the reader.
All of that is why I love Rose and feel her journey from absolute kick ass best friend to kick ass best friend who isn't afriad to show her vulnerable side to her female BFF is great.
Rose Hathaway (Vampire Academy) created by: Richelle Mead
Subscribe for bonus content and insider scoops!
Twittering away...
Husband just remembered that once, when asked what she wanted to be when she grew up, my kid replied, "I wanna be on stilts!" #soproud
- Friday Feb 23 - 9:25pm
https://t.co/1UHQhm57rN Cautiously optimistic about the premise
- Wednesday Feb 21 - 9:20pm
SPOILER ALERT! A fabulous video that you absolutely SHOULD NOT WATCH if you have not yet seen The Good Place s1 fin… https://t.co/Jqf3UnxHg3
- Tuesday Feb 20 - 4:15am
Lose yourself in a funny, sexy urban fantasy romance! The Unlikeable Demon Hunter: Crave releases Feb 20 and to cel… https://t.co/WPcUSnVRRu
- Sunday Feb 18 - 4:56pm
Bet you didn't know you could pair tap dancing and Star Wars! https://t.co/GS2qzvH7nJ
- Friday Feb 16 - 8:45pm
Tellulah's Old Darlings