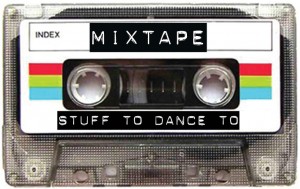 Anyone out there remember the art of the mixtape? My friends and I would spend hours coming up with the perfect A and B sides, creating thematically appropriate cover art and both giving and receiving them like the special gems they were. The best ones told a story. I've kept many of those tapes and still listen to them. Like one that my best friend made for my Europe jaunt called Please Don't Go that I can't listen to without feeling the lulling motion of trains or seeing sunsets on a ferry bound for Greece.
There were breakup stories, crush stories, we're great friend stories. I've tried to recreate that feeling with playlists I've made, but it's never quite reached those same levels of emotion connection for me. That said, I'm going to give it a shot and tell you a love story in 10 songs.
There will be no explaining. Just songs. For those of you who've read the series, well, see if it resonates with your experience. And with those of you who haven't?
Sit back, relax, and listen as I tell you a story …
1) History Repeating – Shirley Bassey & Propellerheads
2) Madness – Muse
3) Let Go – Frou Frou
4) Amazing – George Michael
5) Beautiful – Christina Aquilera
6) Joy – Staxx
7) A million ways to be cruel – OK Go
8) More than words – Extreme
9) How You Like Me Now – The Heavy
And so we come to the end of our story. Sorry? What? Where's the 10th song? Well I don't want to spoil it for anyone. So I'll tell you what. If you really want to know how Sophie's and Kai's story ends, click
here
for the final song.
If you want to read for yourself how their journey ends, remember that My Life From Hell, the final book in The Blooming Goddess Trilogy is live this Thursday, Mar 20. Spring equinox, of course, since that's when the final showdown with Zeus and Hades goes down.
You're also invited to my Virtual Book Bash for the launch. On Sunday Mar 23, from 10-11AM PST, I'll be stremaing live on video at 
http://tellulahdarling.com/tellulah-darling-live/
 I'll do some reading, you can text chat me any questions you have, discuss the pros and cons of swoony boys or just say hi. I'd love to have you help me celebrate the end of Sophie's journey. And the best part? I'm the only one who has to get dressed. 🙂
Thanks for all your love and support, darlings!
xo
Tellulah
Subscribe for bonus content and insider scoops!
Twittering away...
https://t.co/1UHQhm57rN Cautiously optimistic about the premise
- Wednesday Feb 21 - 9:20pm
SPOILER ALERT! A fabulous video that you absolutely SHOULD NOT WATCH if you have not yet seen The Good Place s1 fin… https://t.co/Jqf3UnxHg3
- Tuesday Feb 20 - 4:15am
Lose yourself in a funny, sexy urban fantasy romance! The Unlikeable Demon Hunter: Crave releases Feb 20 and to cel… https://t.co/WPcUSnVRRu
- Sunday Feb 18 - 4:56pm
Bet you didn't know you could pair tap dancing and Star Wars! https://t.co/GS2qzvH7nJ
- Friday Feb 16 - 8:45pm
Better late than never! Discovered the Haim Time podcast on Beats One. So good!
- Friday Feb 16 - 6:45pm
Tellulah's Old Darlings