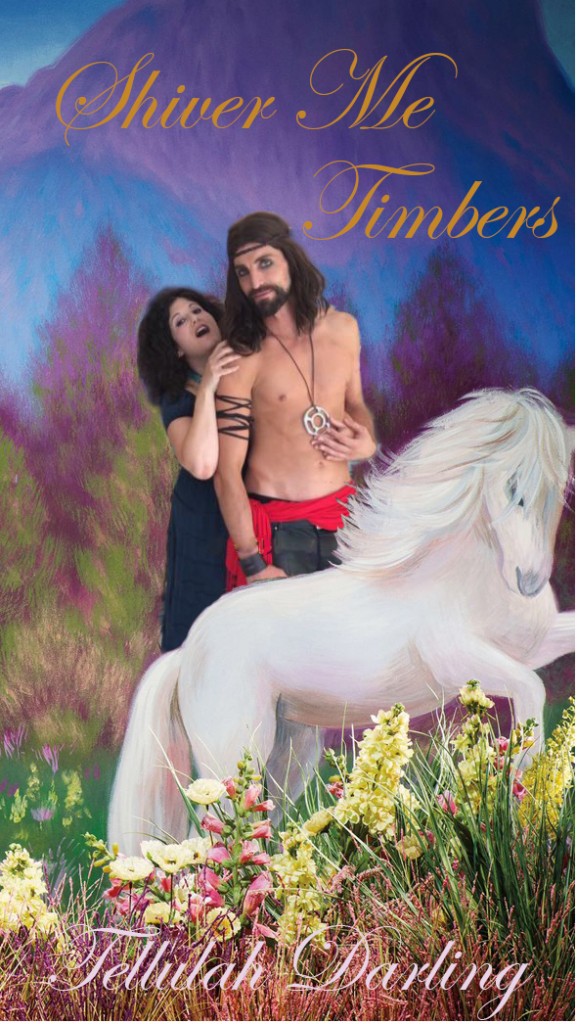 Back in August, MAC released a new line of cosmetics called "A Novel Romance." All the ads were cheesy 80s romance covers. Needless to say, I was in love. I wandered into the store to check out the new line and was asked if I'd like to come to a free event. I could get a makeover, learn about the new colours, and have my own romance cover photo taken with a male model they were hiring. I'd snatched the pen out of the guy's hand to sign up before he'd even finished speaking. I mean really. I write romance, so wasn't it time I got my own romance cover?
The big day came. I had fab make-up artist Katrina going to town on me. We went for the purple and the smoky and laid it on. "But there are photos, right?" I asked anxiously, not seeing any evidence. She smiled and said, "Yeah, with that guy." That's when I saw him. The half-naked model dressed as a pirate. My heart grew two sizes in cheestastic joy. And when he sidled up to my chair and asked "May I read to you?", holding up a romance novel, well, I pretty much died at that point.
With laughter. So there I was, getting more eye make up than I'd ever had on in my life, while pirate boy read me "the good stuff." "We can skip this next bit," he murmured conspiratorially. "It's boring. And I think you can handle the racy parts." I didn't know whether to howl with laughter, snort, or throw myself into the role and swoon. I may have done all three.
As I sat there getting ready for my close up, I kept hearing other women being asked if they wanted their photos taken. And was shocked by how many said no. I wanted to shake them. Cry out "there is a half naked dude dressed as a pirate standing in front of an ocean backdrop with a captain's wheel and you don't want a photo with him? What the hell is wrong with you?" Instead, (a paragon of restraint), I turned to Katrina and said, "more purple on the brow, honey."
At last it was time. Pirate dude posed me, placed my hand on his abs and with a click of the ipad, it was done. I was elated, enraptured, giggling like a fiend. And assured that my photo would be in my inbox the next morning. Early, the next day, I checked my email. Nothing. Later? More nothing. I called MAC. Seems everything had been uploaded and deleted. If I hadn't gotten it, I probably wasn't going to. I guess I must have sounded really distraught because the nice employee called events for me. He called me back. "It's coming," he assured me.
Giddily, I clicked on the link. And found this: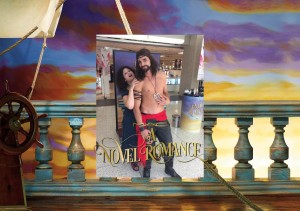 What. The. Hell. They hadn't even gotten us on the backdrop. Instead, we were clearly standing in a mall and then stuck overtop of the wallpaper. SUCKAGE! I am nothing if not a determined girl, and by God, I was going to get my cheesy ass romance cover. It was Photoshop (and my husband) to the rescue. And finally, it was done.
I, Tellulah Darling, now starred as the beeeeuuuutifulll heroine of Shiver Me Timbers, being swept into a meadow, frolicking with pirate guy.
Thanks MAC. You made a dream I had no idea I wanted, come true.
Subscribe for bonus content and insider scoops!
Tellulah's Old Darlings