I love The Voice and especially what a total freak Cee Lo is. That's why I think that the next time he needs a break from the show, we should replace him with Nyan cat. Forget this Usher crap. In fact, don't even mention he's gone. How different would it be if the producers just surreptiously made the change?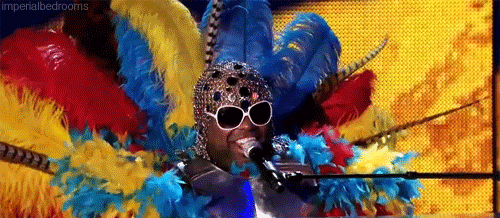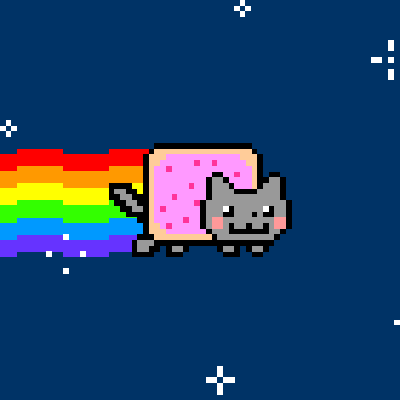 Right?
I mean really, it's not like his wardrobe is any less colourful or bizarre. And would the conversation be so different now? Imagine if you will:
INT. THE VOICE STUDIO – DAY
Fabulous/awful contestant has just finished singing. Carson Daly steps up with a macho clap to the shoulder/big hug.
Carson: Great job, bro./Really nicely done (if female). Let's get our thoughts from the judges. Cee Lo?
Cee Lo (Nyan Cat):
Cristina: (throaty laugh as fans self) You're hilarious.
Blake: (waggles eyebrows rakishly) I have no idea what you just said but you shouldn't listen to him anyways. As the two-time winner of the The Voice (holds index finger up and above head and points in bendy motion towards self), pay attention to me.
Adam: You're crazy, Cee Lo but I love you. In a totally non-sexual way. (calculated mischievous grin to make all females weak)
Cut to commercial.
I'm just saying …
Subscribe for bonus content and insider scoops!
Twittering away...
Finally worked my way through my TBR pile to Keystone by Dannika Dark and I'm so glad I did! https://t.co/7mNkl5f3dP https://t.co/DQRCBD1xCf
- Sunday Feb 25 - 4:54pm
Husband just remembered that once, when asked what she wanted to be when she grew up, my kid replied, "I wanna be on stilts!" #soproud
- Friday Feb 23 - 9:25pm
https://t.co/1UHQhm57rN Cautiously optimistic about the premise
- Wednesday Feb 21 - 9:20pm
SPOILER ALERT! A fabulous video that you absolutely SHOULD NOT WATCH if you have not yet seen The Good Place s1 fin… https://t.co/Jqf3UnxHg3
- Tuesday Feb 20 - 4:15am
Lose yourself in a funny, sexy urban fantasy romance! The Unlikeable Demon Hunter: Crave releases Feb 20 and to cel… https://t.co/WPcUSnVRRu
- Sunday Feb 18 - 4:56pm
Tellulah's Old Darlings