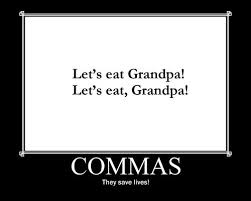 Have I mentioned I've got this smart, fabulous 13-year-old reader girl for a daughter? Those facts are relevant because she has a good grasp of punctuation and yet …
Int. Tellulah's car – day
Me shepherding kid somewhere with iTunes playing. Bohemian Rhapsody comes on. We sing along.
Song ends as we pull into driveway and kid turns to me.
Kid: You know, I don't get this song.
Tellulah: How so?
Kid: It's like 3 different songs. There's a depressed guy, something with a devil, and his mom who killed a guy.
Tellulah: His mom didn't kill anyone. He did.
Kid: No. 'Mama just killed a man.'
Tellulah: *busting out laughing* Mama, comma, just killed a man.
Kid: *unimpressed* There is no comma.
Tellulah finds lyrics, hands phone to kid.
Kid eyes it skeptically.
Kid: There is no comma when he's singing.
While several days later, I'm still laughing (and bugging her with the random "mama, comma" teasing), it actually made me wonder why I knew as a kid who the subject of the sentence was. How did I understand the comma?
Authors need to be aware of punctuation because if not, our transgression is there in black and white for the world to see. But I have to say, I'm impressed with singers who can convey punctuation through emotion and phrasing.
Got any embarrassing punctuation stories of your own? Come on, share them.
Subscribe for bonus content and insider scoops!
Twittering away...
Husband just remembered that once, when asked what she wanted to be when she grew up, my kid replied, "I wanna be on stilts!" #soproud
- Friday Feb 23 - 9:25pm
https://t.co/1UHQhm57rN Cautiously optimistic about the premise
- Wednesday Feb 21 - 9:20pm
SPOILER ALERT! A fabulous video that you absolutely SHOULD NOT WATCH if you have not yet seen The Good Place s1 fin… https://t.co/Jqf3UnxHg3
- Tuesday Feb 20 - 4:15am
Lose yourself in a funny, sexy urban fantasy romance! The Unlikeable Demon Hunter: Crave releases Feb 20 and to cel… https://t.co/WPcUSnVRRu
- Sunday Feb 18 - 4:56pm
Bet you didn't know you could pair tap dancing and Star Wars! https://t.co/GS2qzvH7nJ
- Friday Feb 16 - 8:45pm
Tellulah's Old Darlings