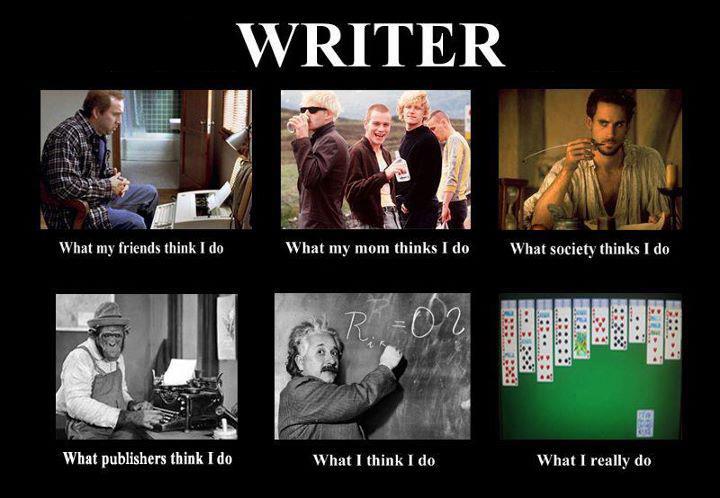 It's more Sudoku than Solitaire.
But I'm not here today to talk about the joys of procrastination – uh, I mean problem solving – I'm here to tell you all about my favourite part of the writing process. The part I call absolute possibility. This is a very specific and extremely technical term. This stage falls after I've settled on my new idea but before I've actually started to beat out the story.
This phase can last a couple months or longer even, depending on the story itself. It's the part where I accumulate hundreds of pieces of paper ranging from full 8.5x11s to scraps torn from wherever and random now unsticky post-its. All of them covered with ideas. With possibility.
As the pile gets higher and higher, and I fall further into my world building, my character development, and my theme, it may seem like the possibilities narrow down. I see it more like perhaps the enormous lake is directed into a forward flowing river, but that river gets deeper and deeper even though its moving in one particular direction.
I love the feeling that anything is possible. The joy of hooking into this story and knowing that at this point, there are no regrets, no missteps, no disappointments. Just pure potential.
Sure, every stage offers its own joys. Feeling my story fall into place in my outline is incredibly satisfying, having my characters take over and write themselves is always a rush, as is fleshing them out at a deeper, more profound level on rewrite. Finding new secrets and things that make them tick that I hadn't known before. Since every stage also poses it's own challenges, it's great that they each also hold some wonder and delight for me.
But none more so than this stage. Is it terrifying to have ultimate possibility? You bet! But there is a reckless giddiness too. Let me share where I'm at. Actually, let me back up. When I wrote My Ex From Hell, it was a new series. I still had this stage but it was tempered by using Greek mythology. Yeah, yeah, I played fast and loose with it in places, but I did try to adhere to the spirit of the canon if not always the precise details. With each subsequence book – My Date From Hell and My Life From Hell – they too had their own stages of discovery. Of possibility and potential but each of them was a bit more bound by what had come before. Much was possible but the possibilities weren't endless.
Well, the Blooming Goddess Trilogy is done and the final book is up on NetGalley collecting advance reviews. So I can turn my attention to the idea that's been simmering inside me for a while. A series where each book contains it's own romantic comedy but has an ongoing fantasy adventure throughout. It's a totally original world, totally original mythology, and magic and I'm stupidly excited to be at this stage with it.
I'd say my pile of notes is about two inches high right now. Much of it dialogue fragments and me sending out feelers of ideas. Last night though, after an awesome discussion with a friend of mine, I felt the entire world gel. The river took shape and it's running fast and deep.
So that's me, right now. A happy, giddy camper, flush with possibility. Time to dive in.
Subscribe for bonus content and insider scoops!
Twittering away...
https://t.co/1UHQhm57rN Cautiously optimistic about the premise
- Wednesday Feb 21 - 9:20pm
SPOILER ALERT! A fabulous video that you absolutely SHOULD NOT WATCH if you have not yet seen The Good Place s1 fin… https://t.co/Jqf3UnxHg3
- Tuesday Feb 20 - 4:15am
Lose yourself in a funny, sexy urban fantasy romance! The Unlikeable Demon Hunter: Crave releases Feb 20 and to cel… https://t.co/WPcUSnVRRu
- Sunday Feb 18 - 4:56pm
Bet you didn't know you could pair tap dancing and Star Wars! https://t.co/GS2qzvH7nJ
- Friday Feb 16 - 8:45pm
Better late than never! Discovered the Haim Time podcast on Beats One. So good!
- Friday Feb 16 - 6:45pm
Tellulah's Old Darlings