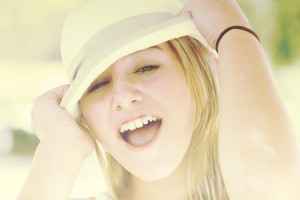 When I was a kid, my mom gave me "the talk." I don't remember most of what she said, probably babies and birth control, but one piece of advice stuck with me. She said that while my body would be physically ready for sex in a few years, I should wait until I was emotionally ready for it. Because sex should be a great experience and part of making it great would be to be emotionally ready.
I don't know if that took some kind of pressure off me in my head or what, but I felt no rush to lose my virginity. I waited until well into university before I felt the time was right. My choice. My timing.
Conversely, I had a friend who was determined to have her first sexual experience at sixteen. She was ready for it and extremely happy with how it happened. In all our many years of friendship. I never heard her voice any kind of disappointment that she wished it had gone down differently. Her choice. Her timing.
When I decided to write YA romantic comedy books, I thought a lot about sex. About whether to include it and how far to go. What I realized was that it had to be as true and as right for my characters as it was for me and my friends. I certainly know women who were disappointed with either having had sex or not having had sex during their teen years. There are a lot of stories about that. I didn't want mine to reflect those experiences.
I want my characters to have exactly as much or as little sex as is right for them. In my first novel, my protagonist Ally has sex. At first she's had it with her boyfriend, but after a bad dumping, wants to play around. A lot of people reacted very badly to this. I was called many names, including "immoral". Keep in mind, this was a funny, light, work of fiction. Not a how-to manual. I stand by that book and that decision because it was a choice that made perfect sense for Ally.
Yes, I wanted my readers to see a seventeen-year-old girl who was sexually active and had no shame around it. Who had fun with sex. And when it wasn't working for her, she re-defined what having sex meant for her. Again, her choice and absolutely right for where she was in her life.
Choice is really important to me. I want my body of work, when complete, to reflect all types of choices around sex. Choices that include being responsible and being smart at every level of sexual activity. My follow up YA romantic comedy to Ally's book was a trilogy retelling the Persephone myth. Sophie Bloom, my protagonist, is sixteen. A young sixteen. It never even occurred to me to have her sexual experiences go beyond hot and heavy kissing. Not because she wasn't old enough. But because it wouldn't have been the right choice for who she was. I would have felt like I was shoving sex into her life for the sake of there being sex. That was not what I wanted.
I'm embarking on a new series now. Skewing older YA again with seventeen and eighteen year olds. It would be easy enough to have all kinds of sexual activity happening. And for some of them, there will be. One of my characters enjoys sex and her own sexuality and has casual hook ups. But I'm realizing that one of my characters is a virgin and will stay that way. And her choices, her decisions around what is right for her sexually need to be as respected as any other.
I want to have characters who run the gamut from very little/no sexual experience, to a lot. Just as young women (all women) do. To present all these choices as positive choices. Make everything from a kiss to actual intercourse the same wonderful positive experience. To let my readers, and my daughter who is growing up reading more and more of my books, have books that promote sexual choice, with an emphasis on young women deciding for themselves what that looks like.
There should be fun and swoon and hopefully laughter and above all, there should be choice. So I'm trying that. Stay tuned.
Subscribe for bonus content and insider scoops!
Twittering away...
https://t.co/1UHQhm57rN Cautiously optimistic about the premise
- Wednesday Feb 21 - 9:20pm
SPOILER ALERT! A fabulous video that you absolutely SHOULD NOT WATCH if you have not yet seen The Good Place s1 fin… https://t.co/Jqf3UnxHg3
- Tuesday Feb 20 - 4:15am
Lose yourself in a funny, sexy urban fantasy romance! The Unlikeable Demon Hunter: Crave releases Feb 20 and to cel… https://t.co/WPcUSnVRRu
- Sunday Feb 18 - 4:56pm
Bet you didn't know you could pair tap dancing and Star Wars! https://t.co/GS2qzvH7nJ
- Friday Feb 16 - 8:45pm
Better late than never! Discovered the Haim Time podcast on Beats One. So good!
- Friday Feb 16 - 6:45pm
Tellulah's Old Darlings