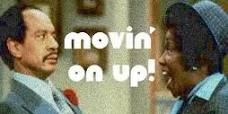 I have an announcement. Like George and Wheezy, I'm moving on up. From young adult to new adult. It was a decision I put a lot of thought into and one which, ultimately, I'm super excited about. Given my characters and the themes in this new series, it made sense to firmly embrace NA.
I promise titles, cover reveals, and teaser excerpts over the next few months. What I will say is that it's a 4 book, romantic comedy series. Each book feature a self-contained, alternating POV, romcom with an overarching magic adventure that takes us to all corners of the globe.
While I was writing it, though I found myself seeking out a certain vibe. A certain headspace, so I thought I'd share my playlist for book one.
Lovesong: Adele
While I love The Cure, it's Adele's gorgeous cover that's been stuck in my head. Listening to her, I feel this rush of intense yearning that I've been working really hard to create on the parts of both my main characters. That tight chest, clenchy stomach feel.
Crazy For You: Hedley
There was much playing and singing of this song during all the bantery parts of my book. You're crazy and you make my head explode but okay, I'm giving in to it because I'm kind of helpless against it. Which is probably not healthy in real life but with fiction is a hell of a lot of fun.
Uptown Funk: Bruno Mars/Mark Ronsen
This was my go-to song for the adventure part of the book. It has such incredible drive and pulse that I wanted to capture that sensation for my MCs. You know, when they're finally getting the hero stuff right. Or think they are, anyhow.
Love Runs Out: One Republic
It may not surprise you that I don't necessarily take actual lyrics into account when being put in a mood by a song. Like this one. LRO is all about vibe for me. Sexual tension. Not getting there … yet. Those longing glances, that tight anticipation that comes with both of you knowing that this thing between you is going somewhere. Even if you don't want to admit it …. yet.
Scream: Usher
This song actually has special significance in my book. But in a general way, it's pure sexy time. And there was much sexy time to be written. I'm sorry, Usher singing those lyrics? If you don't have to stop and fan yourself, then you may want to check your pulse to make sure you're still alive.
Bang Bang: Jesse J, Ariana Grande & Nikki Minaj
There's a car trip in my book and I always imagined this song blasting on the radio as my female protagonist sings at the top of her lungs into the wind, ignoring the infuriating boy next to her.
I Know You Want Me: Pitbull
Mock me if you want but I like Pitbull. And his particular brand of Latino swagger fit my Caracas-born hero. It's just so presumptuous and I love that about it. Though my guy has a far more sensitive side than this song would imply.
More: Bobby Darrin
This! This song is being in love. It's the "I'm so happy and I won't stop smiling and dancing and twirling around with prop umbrellas" feeling that every romantic comedy absolutely must have.
There you have it. The soundtrack that influenced the new book. Enjoy. And I promise many interesting teases to come soon!
Subscribe for bonus content and insider scoops!
Twittering away...
https://t.co/1UHQhm57rN Cautiously optimistic about the premise
- Wednesday Feb 21 - 9:20pm
SPOILER ALERT! A fabulous video that you absolutely SHOULD NOT WATCH if you have not yet seen The Good Place s1 fin… https://t.co/Jqf3UnxHg3
- Tuesday Feb 20 - 4:15am
Lose yourself in a funny, sexy urban fantasy romance! The Unlikeable Demon Hunter: Crave releases Feb 20 and to cel… https://t.co/WPcUSnVRRu
- Sunday Feb 18 - 4:56pm
Bet you didn't know you could pair tap dancing and Star Wars! https://t.co/GS2qzvH7nJ
- Friday Feb 16 - 8:45pm
Better late than never! Discovered the Haim Time podcast on Beats One. So good!
- Friday Feb 16 - 6:45pm
Tellulah's Old Darlings