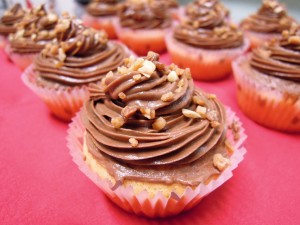 Walnut bread excites me. No, that's not a euphemism or an admission of a baked goods fetish. I feel like almost every book I've read lately, where the female MC bakes, involves her baking cupcakes.
Then I read a book in which there were no cupcakes. Our heroine made walnut bread. And I was stupidly impressed. Seriously? It's come to this?
Did I miss the memo where cupcakes became code for something? Some femininity shorthand or test of excellence in a relationship the way women were once chosen for their child-bearing hips?
Personally? Love cupcakes. But they're starting to leave a bad taste in my mouth when it comes to being some kind of defining character trait. "Oh look! She bakes cupcakes!"
So, darlings, I'm asking you to point me in the direction of baking diversity in books. And no, you can't just give me cake chefs. That's just bigger cupcakes. Give me a chocolatière, a confiseur. Or how about we leave the baking realm altogether in favour of a sushi chef, a gourmand of Indian cuisine, that barbecuing grand champion?
Let's treat the cupcake in writing, like the cupcake in real life – a small sweet bite.
Subscribe for bonus content and insider scoops!
Twittering away...
Finally worked my way through my TBR pile to Keystone by Dannika Dark and I'm so glad I did! https://t.co/7mNkl5f3dP https://t.co/DQRCBD1xCf
- Sunday Feb 25 - 4:54pm
Husband just remembered that once, when asked what she wanted to be when she grew up, my kid replied, "I wanna be on stilts!" #soproud
- Friday Feb 23 - 9:25pm
https://t.co/1UHQhm57rN Cautiously optimistic about the premise
- Wednesday Feb 21 - 9:20pm
SPOILER ALERT! A fabulous video that you absolutely SHOULD NOT WATCH if you have not yet seen The Good Place s1 fin… https://t.co/Jqf3UnxHg3
- Tuesday Feb 20 - 4:15am
Lose yourself in a funny, sexy urban fantasy romance! The Unlikeable Demon Hunter: Crave releases Feb 20 and to cel… https://t.co/WPcUSnVRRu
- Sunday Feb 18 - 4:56pm
Tellulah's Old Darlings