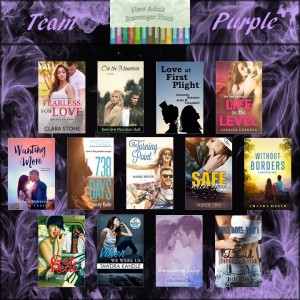 Hey everyone! No Curl Up With Good Book Sunday because I wanted to give you all a heads up about the New Adult Scavenger Hunt I'm participating in as part of Team Purple. There will be three teams of authors showcasing bonus content from our books as well as amazing prizes to win.
The hunt runs from Thursday, April 28 at noon EST to Sunday, May 1 at noon EST.
More information can be found here.
Be sure to come back on Thursday April 28, to find out which author I'm hosting and what information I'll have that you'll need in order to try and win the grand prize!
xo
Tellulah
Subscribe for bonus content and insider scoops!
Twittering away...
Husband just remembered that once, when asked what she wanted to be when she grew up, my kid replied, "I wanna be on stilts!" #soproud
- Friday Feb 23 - 9:25pm
https://t.co/1UHQhm57rN Cautiously optimistic about the premise
- Wednesday Feb 21 - 9:20pm
SPOILER ALERT! A fabulous video that you absolutely SHOULD NOT WATCH if you have not yet seen The Good Place s1 fin… https://t.co/Jqf3UnxHg3
- Tuesday Feb 20 - 4:15am
Lose yourself in a funny, sexy urban fantasy romance! The Unlikeable Demon Hunter: Crave releases Feb 20 and to cel… https://t.co/WPcUSnVRRu
- Sunday Feb 18 - 4:56pm
Bet you didn't know you could pair tap dancing and Star Wars! https://t.co/GS2qzvH7nJ
- Friday Feb 16 - 8:45pm
Tellulah's Old Darlings