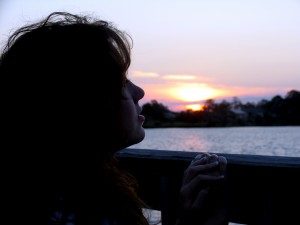 We interrupt the funny to bring you a rant. Because I am seriously annoyed.
Is everyone familiar with the term "new adult" when it comes to books? These are books that tend to feature college-aged characters and have more sex and swearing than your typical YA books. Not all YA books though (those of you who read my first YA romcon Sam Cruz's Infallible Guide to Getting Girls know what I'm talking about.)
Anyways, I'm not here to debate the designation. What is really bothering me is that I just finished another one of those novels featuring a girl who had suffered a) sexual abuse of some level compounded by b) torment and humiliation at the hands of her peers and topped with c) at least one unsupportive parent. But after meeting the dreamy boy, she learns to trust and is able to handle intimacy.
And that's where I start fuming. Let me be clear. It's not that I think sexual abuse should not be discussed. It is a heinous act and if telling stories about it helps raise awareness and somehow lets the madness end, then great. What has me angry is that sexual abuse seems to have become the de facto defining character trait of waaaay too many female protagonists in new adult books.
Problem the first:
By making this "trendy", it actually trivializes the event.
Problem the second:
Yes, I hope that any woman (or man) who has suffered sexual abuse finds a loving supportive partner that helps them to enjoy intimacy and have a fulfilled relationship. No question. However, I worry that again, these books are simplifying things. They say "hey, all you need is dreamy guy – who let's face it does not exist because he is a book fantasy – and he'll help you be okay." Uh, no. I wouldn't want anyone reading these books who perhaps has been the victim of abuse to think there must be something wrong with them since that perfect partner is not showing up to instantly fall for them and want them, scars and all. And before you start chastising me that no one would think that – yeah, I think there are readers out there who would.
Problem the third:
This may be my biggest problem – why are these stories overwhelmingly dealing with victimized girls? What happened to stories about human beings who happen to be female with internal flaws, that are universal not gender-based? These stories are all about an external event that is absolutely no fault of the female's and how the love of the perfect boy fixed it.
Many of these stories are very well written. I enjoyed them and I enjoyed the swoony boys.
I just want this trend of  reducing women to one victimized trait to stop. Not even stop. Go ahead and continue to tell these stories but don't make them the only defining factor of females in this age group.
Keep the idea of turning "surviving" into "survivor" but find other ways to explore it.
Here. I'll get you started with some possible jumping off points.
How about a story about a female who wants to defy the norm? Maybe be a mouthy mathematician having grown up in a world that prized good girls who were to go to university for an English degree and a husband?
Someone with anger issues that keeps her from being happy.
Someone with an insatiable curiosity that gets her into trouble.
A lead struggling with the difference between power and empowerment.
Let's celebrate females in all our fabulous albeit flawed glory. Because while bad things happen to us, to all humans, they are not sum total of who we are.
What do you think? Have you read many NA books? Do you see this trend happening? Does it bother you at all? Comment and let me know!
Subscribe for bonus content and insider scoops!
Tellulah's Old Darlings