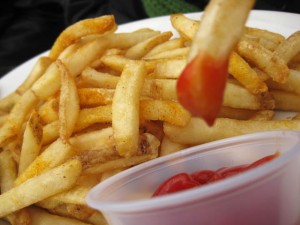 The dinner date is a long time romance story staple. Often, our hero will take a moment to think favourably about being with a woman who isn't afraid to dig into a steak. Who'll eat more than bunny food. Of course, we all know he's also thinking favourably that he's with a woman with a speed racer metabolism, because the heaping of compliments (in thought and deed) on her slender form permeates the story. (I don't know about you all, but my metabolism actually requires exercise and a lot of watching what I eat. Which I suck at. I'll still eat the steak, just you know, I'm gonna pay for it.) I never really thought much about this type of complimenting beyond a vague "this is supposed to make me like the hero" thought at the back of my brain.
But recently, I read a story in which the hero was pleased because his date was eating French fries "without apology." For some reason, this completely pulled me out of the story. I set my book down with a frown and a "huh." Why is the simple, enjoyment of eating fries without apology something worthy of comment one way or the other?
I don't blame the author. But I do have a question. Has anyone ever read a book or an article in which the woman gushed about being so glad the man across from her shovelling food into his face, didn't apologize for it? Class? Bueller? Anyone? Could we maybe stop the reverse practice towards romance heroines? (I can't even take on real life body issues and cultural ideals of beauty right now).
See, I don't read romance novels for their reality factor. I have enough reality in my actual life. I want to be swept away with men that are only appealing in the confines of my head. (See my article on Back Away From The Alpha Male for further insights on that one.) I know that as a curvy chick with the boobs-butt-belly trifecta, that I am being judged. It happens. Skinny girl at next table eats fries. No problem. I eat them. Uh-oh. Judgement. Dun dun duuuunnnnn. It is a fact of life that is not just in my head but has been annunciated to me by family, well-meaning friends, and strangers alike.
That said, I will never apologize for eating French fries. Or anything else I damn well please. Will I try every day to make good choices? Sure. Will I do my best to be healthy? You betcha. Will sometimes I just want and eat that thing I shouldn't? Damn skippy I will.
How about this? How about all romance authors (and I include myself) promise to cut this shit out. No more praising women because they are eating whatever they are eating. Let's have a new norm, in which women put whatever they want in their mouths without getting a pat on the head for it. (Let it not be said I never gave you a good set up …) There are millions of ways to give me a sympathetic hero. And of all the great guys I've known, not one has ever said "good for you for eating that cake and not apologizing for it." They too, have other qualities to recommend them.
Salad or steak, neither needs your approval mister. Take me away from the bullshit I see enough of in real life.
Also, I'm having pizza for dinner and I don't plan to apologize for a bite.
Subscribe for bonus content and insider scoops!
Tellulah's Old Darlings