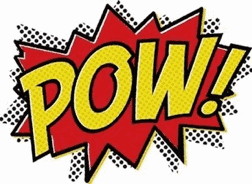 HELP SOPHIE BLOOM!
Poor girl. It's not enough she discovered that she's Persephone, Goddess of Spring. She's also humanity's saviour in the war between Zeus and Hades, her friends are not necessarily who they seem and she's got the bad boy from Hell (literally) back in her life.
All this, and she doesn't even have a cool name for her goddess powers. But this is going to change with the NAME SOPHIE'S GODDESS POWERS CONTEST.
For those of you unfamiliar with her powers, it has three stages: Stage 1) moss green vines of light (which have substance and pack a punch) shoot out of her palms, Stage 2) Single blasts of green light shoot from her eyes and palms, Stage 3) She shoots full body highly destructive shockwaves from her entire body.
If you can think of a cool name, then here's what you can win: a signed copy of My Date From Hell, a t-shirt featuring a tattoo design as mentioned in My Date From Hell, getting your power name used in My Life From Hell (the final book of the trilogy) and just for fun, because we all love swoony boys, I'll also throw in my autographed photo of Sam and Dean from Supernatural.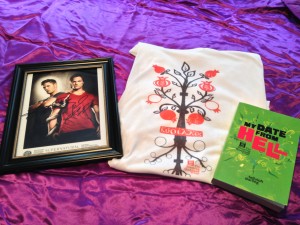 The winning entry will be picked by yours truly.
HOW TO ENTER:
All you have to do is put your power name suggestion in the reply section below and tweet the following:
Name Sophie's goddess powers & #win! Details/entries http://bit.ly/1evuIp0 #MyDateFromHell
If you don't have a twitter account, please mention that in your entry. I will be tracking tweets.
Make sure you read the Rules and Regulation as well.
RULES AND REGULATIONS:
This contest is open internationally to individuals thirteen and up.
Entrants may submit as many power name suggestions as they wish, provided names are pronounceable, spellable and distinct from names that are already trademarked or under copyright.
Since this series is appropriate for ages 12 and up, the winning entry will be suitable for a YA readership, free from profanity, explicit sexual content, or hate promoting in any way, against any person.
Entrants will submit their suggestion in the comments section below and tweet in conjunction with their entries unless they specify that they have no twitter account in their submission.
In the case of two identical winning entries, Tellulah Darling will choose the one which was submitted first.
There is no purchase necessary to enter or win. This contest will run no later than November 7, 2013. Tellulah Darling has the right to disqualify any entries with false or unverifiable email addresses. Tellulah Darling reserves the right to modify the winning entry as needed for final publication. Tellulah Darling reserves the right to not choose a winning entry.
Any winner that is chosen will be contacted by email within 48 hours of the latest possible contest end date of November 7, 2013. The winner's name may be publicly announced on tellulahdarling.com or any of Tellulah Darling's social media, with the understanding that it may be rebroadcast by others.
So get naming!
And remember, My Date From Hell officially launches on October 31, 2013, so grab your copy and check out what Sophie and the gang are up to now.
UPDATE: November 7, 2013 – THIS CONTEST IS NOW CLOSED. Thank you for your participation. 🙂
Subscribe for bonus content and insider scoops!
Tellulah's Old Darlings