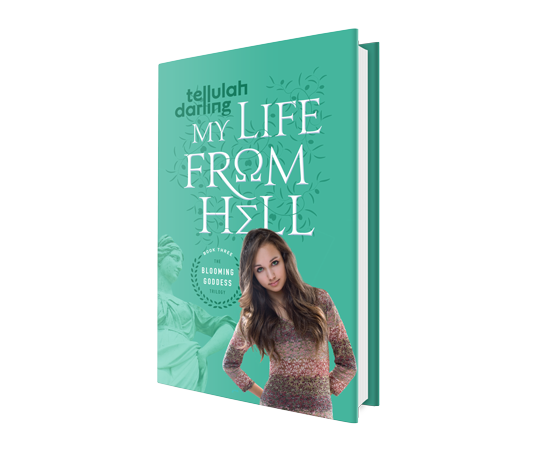 Save herself; save the world. Humanity may be screwed.
To say that Sophie Bloom is at the top of her game with one only week until Spring Equinox and the final showdown with Zeus and Hades would be, well, lying. The Goddess of Spring feels more like the Goddess of Bzzz, Thanks For Playing than the savior of humanity. And could her relationships be any more messed up?
Good times.
Sophie is convinced that things can't get any worse than crawling back to her mother Demeter and begging for help. But she's about to find out how very wrong she is.
It's a race against time for Sophie to implement the big battle strategy in the YA romantic comedy/Greek mythology finale My Life From Hell. A perfect read for everyone who loves sassy girls who kick butt and the bad boys that infuriate them.
Reader Reviews of My Life From Hell
Nicole Hewitt (Feed Your Fiction Addiction)
In the end, Sophie learns some pretty important lessons about herself and about what's really important. The final battle wasn't won in the way I expected at all, and Sophie's premonitions all come true in ways that were surprising too. I don't want to spoil what happens or what Sophie's conclusions were, but suffice it to say that Darling put some powerful messages in her book that really lifted the series to a new level.
Eleanor (The Book Hammock)
My Life From Hell was a great conclusion to the trilogy and Sophie and Kai's story. I can summarize this book as a great mythology meets modern humor story, wonderfully happy, funny, action packed with a HEA that leaves a sweet taste. And don't forget all the Kai swoons. That boy… och. I love him.
Jessica (Lovin Los Libros)
If you're a fan of mythology and snarky, sassy teenagers these are the books for you! Darling has done such an awesome job of transforming the Persephone myth and giving it some flair! … You get a snarky heroine, a sexy, swoon-worthy love interest, lots of kissing, a great group of friends that will make you laugh out loud, a new twist on mythology, AND did I mention LOTS OF KISSING?
Tabitha (Bullets and Bows) –
I can't express how thrilled I am to have had the opportunity to read this amazing series and how utterly sad I am to see it end. I feel the textbook definition of a book hangover. What am I supposed to do now?.