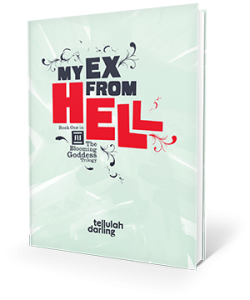 Sixteen-year-old Sophie Bloom wishes she'd been taught the following:
a) Bad boy's presence (TrOuBlE) + teen girl's brain (DraMa) = TrAuMa (Highly unstable and very volatile.)
b) The Genus Greekulum Godissimus is notable for three traits: 1) awesome abilities, 2) grudges, and 3) hook-ups, break-ups, and in-fighting that puts cable to shame.
Prior to the Halloween dance, Sophie figures her worst problems involve adolescent theatrics, bitchy teen yoga girls, and being on probation at her boarding school for mouthy behaviour. Then she meets bad boy Kai and gets the kiss that rocks her world.
Literally.
This breath stealing lip lock reawakens Sophie's true identity: Persephone, Goddess of Spring. She's key to saving humanity in the war between the Underworld and Olympus, target numero uno of Hades and Zeus, and totally screwed.
Plus there's also the little issue that Sophie's last memory as Persephone was just before someone tried to murder her.
Big picture: master her powers, get her memories back, defeat Persephone's would be assassin, and save the world. Also, sneak into the Underworld to retrieve stolen property, battle the minions of Hades and Zeus, outwit psycho nymphs, slay a dragon, rescue a classmate, keep from getting her butt expelled from the one place designed to keep her safe …
… and stop kissing Kai, Prince of the Underworld.
My Ex From Hell retells the Persephone legend in this YA romantic comedy book. It's a Greek mythology smackdown as love meets comedy with a whole lot of sass in book one of this series. Compared to Kai and Sophie, Romeo and Juliet had it easy.
Reader Reviews of My Ex From Hell
Jaime (Fiction Fare)
I'm not sure that this book could have been more perfect. Sophie Bloom… I'm not even sure how to describe her other than to say I wish that she and I were friends in High School… I think it would have been a whole lot more fun, and a lot more exciting.
Kristen (Seeing Night Reviews)
It's a relief to get some sense of humor in a story that has a mix of mythology, magic, and romance. I felt that the young adult books were are starting to blend together and this one definitely stands apart because of the writing and lighter tones that kept me laughing. There is a ton for readers to enjoy, with side characters that stand out, action packed fight scenes, magic, great villains and of course hints of romance!
Dayla (Confessions of a Book Addict)
Full of modernized mythological adaptations (it was cool recognizing mythological figures along the way!), fantastically relatable characters (give or take the magic), and dialogue so witty that you have to pause your reading, Darling's novel is a must read young adult novel.
Emily (Book Jems)
Tellulah spins mythology brilliantly and makes My Ex From Hell the funniest retelling I've ever read.
Shayna Varadeaux (Shayna Varadeaux Books)
It's a breath of YA fresh air and so fun to read. I adore Sophie and her attitude, she's smart and considerate yet stern and determined. She is quirky and surprisingly her thoughts are kinda violent so she's a "bad A" too not to mention her, Hannah and the adorable Theo are hilarious! … love Greek Mythology and this is a great spin on it completely unique I think and I LOVE IT!!