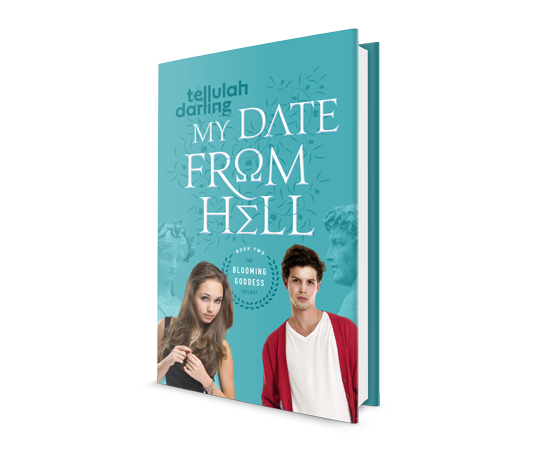 Whatever happened to dinner and a movie?
With Zeus stepping things up, it's vital that Sophie retrieve Persephone's memories and discover the location of the ritual to stop Zeus and Hades. So when Aphrodite strikes a deal that can unlock Sophie's pre-mortal past, what choice does the teen goddess have but to accept?
The mission: stop media mogul Hermes from turning mean girl Bethany into a global mega-celebrity. The catch? Aphrodite partners Sophie and Kai to work together … and treat this suicide mission as a date. Which could work out for Sophie's plan to force Kai to admit his feelings for her–if she doesn't kill him first.
The YA romantic comedy/Greek mythology fireworks continue to fly in My Date From Hell. Love meets comedy with a whole lot of sass in book two of this teen fantasy romance series. Breaking up is easy; dating is deadly.
Reader Reviews of My Date From Hell
D. Donovan, Senior eBook Reviewer, Midwest Book Review
Teens who appreciate humor and spicy romance in their reading will find My Date From Hell is packed with fun interplays between gods, goddesses, mortals, and personal agendas….Add a gay best friend, the wrath of Aphrodite, and an unholy alliance between Zeus and Hades and you have a plot loosely based on the Greek Gods, but with many modern twists and turns….Many an adult fantasy reader will find these sassy romance and encounters refreshingly different and fun.
Michelle (Book Briefs/Top 1000 Reviewer Amazon)
The dialogue in My Date From Hell was witty and snappy and extremely enjoyable. I liked the brisk pace of the story and I liked how funny the characters were. She reminds me of Meg Cabot, with all of her wise cracks and pop culture references. (and anyone that knows me, knows that is a HUGE comparison. I LOVE Meg Cabot!
Stacee (Adventures of a Book Junkie)
Rec It? A million times yes. My Date From Hell continues the awesome journey that Sophie is on. If you love snarky girls, swoony gods and delicious banter on almost every page, this is for you.
Jess (Such a Novel Idea)
Can Tellulah Darling do what so many authors fail to do — write a stellar sequel that matches (or surpasses) a first book in a series? The answer is yes, yes she can. Sophie is just the best. Tellulah Darling is a fantastic writer with wit and spunk who breathes so much life into her characters.
Ginny Lurcock (Ginnylurcock.com)
Seriously though, Tellulah has this brilliant ability to blend mythological characters with new and unique modern personalities so that we end up with a gay hipster with a limp who is such an awesome character that I want to have him over for drinks and pizza. And Festos is just the tip of the iceberg here!
Simi (Gay YA)
It surprised me, somewhat, that such a rapid, action based, intensely plot-driven book had the time or the effort to pull off characters that had so much depth and variety in terms of emotions and backgrounds.