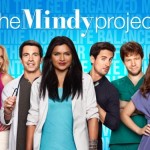 Why: a realistic combination of confidence and total mess
I only checked out this show for the first time a few weeks ago. While I'd known who Mindy Kaling was, I didn't have much of an opinion about her one way or the other. But now, I am six kinds of in love with this lady.
Okay, have any of you seen Miss Congeniality? I love that movie, precisely because I think Sandra Bullock has the perfect blend of confidence and messed up. While she is a great FBI agent, she is a disaster as a girly girl. Not that she even wants to be that extreme, but she could use a nudge in that direction (girly in the best of kick-ass ways).
I know women like this. Women who are great in one aspect of their lives but not so much in the others. Maybe it's their career that is struggling, maybe their family relationships. And even if it is their love life (whether with another women or a man), wanting to find another person to bond with, that doesn't lessen their amazing intelligence, wit, and all around awesomeness.
Which brings me back to Mindy. Dr. Lahiri is really good at what she does. Maybe her personal relationships are, at times, a bit of a disaster, but what I love is that she approaches everything with the same level of sweetness, confidence and determination. Even when she's going about handling a situation in the worst way possible.
Thing is, and this is maybe the best part, for all that the reviews and articles talk about how this is modelled on a romantic comedy, her female friends are incredibly important to her. Mindy may seek a soul mate, but I don't think it's because she needs someone else to complete her. She's a modern, independent woman who happened to be raised on a steady diet of romance. I can really relate to that.
There's one scene, in which Mindy has gone to her BFF's house for dinner, only to discover that an ex is now dating another Indian-American woman who is kind of an uber-Mindy. Not only that, she has apparently become close to Mindy's BFF. This is the first Mindy has heard about it. So she goes into her BFF's bedroom and systematically starts taking away mementos of their friendship, all while informing her BFF (sweetly but with absolute determination) that it's been fun and she'll always cherish their time together. That just made me howl with laughter. She gets these knee jerk reactions that she commits herself to following through, no matter how extremely off-course it gets.
I totally buy it because I believe in the smart girl who doesn't want to be proven wrong, until absolutely forced to concede defeat. (Not me, of course, but I've heard about these women…) This characteristic is just one of the many that bring to life a complex human being. She's not just a kooky klutz. She's not just the "schitzy pretty" girl. Mindy is a grown up, fully realized, and very competent woman who suffers from the same insecurities and self-doubts that have plagued many of us at one time or another.
So, if you're looking for a show about an awesome female, who is probably like you, or many of your friends, then look no further. Mindy Lahiri is a wonderful example of how to write a character who has brains, beauty, humour and dysfunction in amounts that resonate in a real way.
The Mindy Project is created by: Mindy Kaling
Subscribe for bonus content and insider scoops!
Twittering away...
Learned my 16 yr old thought the guys from One Direction were named Wade & Kyle. Even I know better than that. Good job, honey. Good job.
- Tuesday Jan 16 - 12:55am
I Believe in a Thing Called Love by @mauxbot is a total delight and I cannot pimp it out hard enough! Read this boo… https://t.co/RbHKKTkU7a
- Sunday Jan 14 - 5:58pm
These are fantastic! https://t.co/cVCSZiTWhP
- Friday Jan 12 - 5:35pm
Prince owns Gershwin's Summertime in jazz piano number. Gorgeous! https://t.co/M8fVFeOYoA
- Thursday Jan 11 - 2:35am
Yes to everything about this article! https://t.co/H6xQ6KcArV
- Monday Jan 8 - 8:35pm
Tellulah's Old Darlings