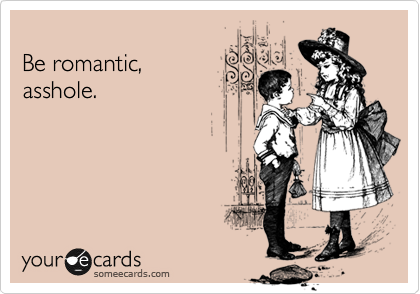 I'll never forget the cover of this porn movie I once saw. Written in large, bright letters were the words, "Limited plot to fast forward through." You have to appreciate both the porn company's honesty and marketing savvy in knowing their audience.
And while porn is the antithesis of romance (guys, don't even try to argue otherwise), there is a commonality. With both porn and romance, people tune in for the predictability of it. I mean, really, is anyone sitting on the edge of their seats tense that maybe this time the pizza guy really did show up to the nearly nude chick's home just to deliver pizza?
From romantic comedy to sci-fi & fantasy romance to historicals, the predictability of the happily-ever-after is what I tune in for. (I'm not including romantic dramas of the Nicholas Sparks variety here. But the predictability of tears is just as big a factor for those audiences.)
That doesn't mean I don't want the HEA jazzed up. Absolutely, make me forget that it's coming. I have read thousands of romance novels spanning all kinds of storytelling in my life. Not to mention all the romantic comedy movies and musicals I've consumed. I've written a romantic screwball feature and now write YA romantic comedy books myself. Just to set up that I've been on both sides here so I'm going to invest myself with authority when I say:
Listen up, romance writers! If there is zero romantic relationship tension – if you do not have me questioning the guaranteed outcome of your story, then I'm sorry, you suck.
I don't care how hot your leads are. I don't care how witty their banter is or how much sex they have. Let it be noted on the record, that I enjoy a great deal of both steam and wit in my romance reading. But lately, I find myself doing what I call the "reverse porn." In which I flip through innumerable (and often totally incomprehensible if they have the same anatomy that I do) sex scenes desperately seeking, oh, I don't know, character development or conflict laden plot. Ooh, external goals are good too.
Please put this relationship in jeopardy every step of the way. Root it in solid character issues and then exploit the hell out of them as you take our poor, deluded lovers on the most painful wake up train ride to love imaginable.
Believe me, I know how hard it is. I write these things too, remember? And I might not always get it right, or get it to everyone's liking but I'd like to think that at least I'm trying my absolute best to give my readers a romance so satisfying, that when the HEA finally happens, it's with a huge sigh of relief, a big grin, and feeling all gooey inside.
There are tons of authors out there right now who are brilliant at this. I bow down before you, send my fangirl love, and beg you to keep writing. But for a lot of others, I sometimes wonder if they actually read romances as a fan themselves? Or if they just heard what a huge market it is and with the "how hard could it be to write a love story" prejudice I've found sadly all too often, decided to go for it.
Just. Don't. My experience of romance readers, regardless of age, gender, or anything else, are smart, articulate readers who know when they're being fed pandering crap.
Remember that we are hopeless romantics. This means we go into your books already wanting to fall in love with your characters, with their story, and with anything else that you are going to write. You don't have to convert us, but seriously, don't insult us.
So, please, stop the onslaught of mediocre romances that are out there and let's go back to more utterly satisfying tales of lovely lovely love.
And on that note, what should I read next?
RELATED LINKS:
New adult books and broken girls – please make it stop
Subscribe for bonus content and insider scoops!
Tellulah's Old Darlings