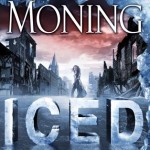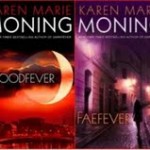 Why: a clear goal that keeps the urgency and forward momentum and cements Mac as the centre in a personal and relevant way
SPOILERS ON BOTH BOOKS AHEAD:
I just read ICED, which is Dani's spin-off from the Fever series. I was SO excited to read this book. My love for Fever borders on obsessive and I really enjoyed Dani's character in those books. More of that world and those people would seem to be a great thing, right?
And yet, not so much. There's a term used in screenwriting: centre and eccentrics. What that means is literally someone is the centre of the show – the main protagonist, the anchor. If we look at the sitcom Cheers as an example, Sam Malone was the centre. He was our way in to this gang, our POV, our centre. Everyone around him, from Norm to Cliff to Carla etc were our eccentrics. In terms of theme and character, they were to one extreme or another of Sam. That included Frasier. On Cheers, he was an eccentric. If Sam was our everyday charmer, Frasier was "eccentric" to that: an intellectual snob, highly educated, not that great with women.
Then he got his own show. (I promise this is all relevant to Mac and Dani). In order to keep that show sustainable, he had to become the centre. Which meant that there needed to be other people who were "eccentrics" to him. Namely the two extremes of Niles (extreme version of his own personality) and Martin (extreme opposite.) Now Frasier was our centre and the show and all its goals could be filtered through him.
This brings me back to Fever. Mac is without question, the centre of that series. Not only is she our way in, she has an extremely personal goal – find out who killed her sister. Everything else, the war with the Fae, her survival, Barrons, whatever, are all just complications to that goal. Karen Marie Moning continually reminds us of this goal.
I'm sure Mac's story could have been interesting if it was just about a woman who went on vacation and then found out all this other stuff. No sister. But it became amazing once that goal was given to her. Suddenly, it wasn't a story that could have been told about anyone who found out she was sidhe-seer – it was specifically the story of a woman trying to figure out who killed her sister and having to deal with everything else to accomplish that goal. It allowed for a personalization, an intimacy against this global backdrop. It also gave the story an urgency and forward momentum that just having Mac deal with Fae without the sister element would not, IMHO, have had.
And that's where, for me, ICED – and Dani – fell down. Dani, in the Fever series, is an "eccentric." So in order to have her spin off have the same emotional punch as Fever, something specific needed to happen to centre her. It didn't. And  there are no eccentrics to anchor her, not really. None who thematically and on a character level centre who she is. Just more of the same characters.
Also, the "why now?" element that kicked Mac's story and sent it running, is missing. ICED is a lot of Dani running around dealing with global conflicts. Okay. That's nice. But really the same plot could have been given to any of the sidhe seers – and actually kind of is, because we get Kat's perspective in the book two. (The red flag of having a book be called ICED: a Dani O'Malley novel and then including POV's of two other characters could be an entire other discussion.)
All this to say that if you want to spin off a fun character, please let there be a reason, specific to them, for that spin off. Otherwise, maybe the world should just be left where it was and that character remain a beloved eccentric.
ICED: written by Karen Marie Moning.
SEE ALSO:
Wade/Parzival (Ready Player One) is great
Subscribe for bonus content and insider scoops!
Twittering away...
https://t.co/1UHQhm57rN Cautiously optimistic about the premise
- Wednesday Feb 21 - 9:20pm
SPOILER ALERT! A fabulous video that you absolutely SHOULD NOT WATCH if you have not yet seen The Good Place s1 fin… https://t.co/Jqf3UnxHg3
- Tuesday Feb 20 - 4:15am
Lose yourself in a funny, sexy urban fantasy romance! The Unlikeable Demon Hunter: Crave releases Feb 20 and to cel… https://t.co/WPcUSnVRRu
- Sunday Feb 18 - 4:56pm
Bet you didn't know you could pair tap dancing and Star Wars! https://t.co/GS2qzvH7nJ
- Friday Feb 16 - 8:45pm
Better late than never! Discovered the Haim Time podcast on Beats One. So good!
- Friday Feb 16 - 6:45pm
Tellulah's Old Darlings