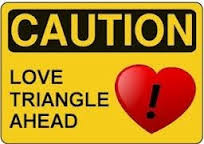 Welcome to my highly analytic deconstruction of love triangles otherwise known as "love triangle, how doth thou suck!"
You guys know me. I love me some tension in my romances. Thing is, I think that 99% of the time that love triangles are total BS. Far as I can tell in my scientific breakdown, there are three ways that a love triangle can play out. Which, I guess, is kind of fitting.
Possibility the first: 1 strong, 1 weak contender – Probably the most common variation of the love triangle and the one I hate with a desperate contempt. Why? Because we know all know it's a cheap fake out and there is no way in hell that the useless choice is going to emerge victorious. So what's the point of making us suffer through it? Either, the lame choice is Mister Good Man – not in actually an appealing way but in that milquetoast "if she chooses him, might as well make that last image her first drink because there is only alcoholism and disappointment ahead." OR it's the "Super Bad Boy". And I mean, come on, I like my bad boys but in these situations, commit to this guy and our heroine is one chapter away from the lifelong thrill of conjugal visits in the bighouse.
I think we can agree this permutation of the love triangle blows.
Possibility the second: 1 strong, 1 weak contender with twist. "Do tell, Tellulah," I hear you cry. What is the twist? Well, darlings, the twist is that late in the story, the author suddenly pulls some ridiculous reason out of her ass as to why the actual choice, the soul mate, the perfect fit – i.e. the one that our heroine should be with, suddenly can't be, leaving her with the pale imitation as a possible HEA and the readers with the uneasy sense that this poor girl is only going to spend the rest of her life justifying her happiness through denial, lowered expectations, and regularly scheduled crying jags. As may or may not have happened in a massively popular YA dystopian series which shall remain nameless.
Still with me? Moving on.
Possibility the last: 2 actual equally plausible contenders. This final dynamic is exceedingly rare and yet it does happen. Ironically, since it would appear to be the best choice for me, given my previous hypotheses, it is actually the choice that upsets me the most. No, I am not filled with rage and disgust but extreme anxiety. Because I am a delicate flower and this situation bothers me. I don't want either guy to lose out. So when one does, as one must because I don't read polygamist romances, I am sad.
Here's pretty much the bottom line with me reading romances: I DON'T WANT TO BE SAD AT THE END. I want my HEA. Okay, if I chose to read some Nicholas Sparks type book, or The Fault In My Stars which I swear I'm going to be able to bring myself to read when I have a weekend to curl up in the fetal position and cry afterwards, then yeah, I expect I'll end up in tears. But I understand what I'm getting myself into. The books I consider romances though? That I read as such? I want my HEA big time. Therefore, being mopey that dude X did not get the girl because he was as great a fit as dude Y? Sadness ensues.
And I don't care if dude X then goes on to get his own book. If the author did a good job in that first story with how right he was for the one that got away, then anyone else becomes a weak contender and see premise one.
There. I hope that I have enlightened you as to the pitfalls of the love triangle. And if you have an opposing hypothesis, please comment so that we may debate.
Thank you and good day.
Subscribe for bonus content and insider scoops!
Twittering away...
SPOILER ALERT! A fabulous video that you absolutely SHOULD NOT WATCH if you have not yet seen The Good Place s1 fin… https://t.co/Jqf3UnxHg3
- Tuesday Feb 20 - 4:15am
Lose yourself in a funny, sexy urban fantasy romance! The Unlikeable Demon Hunter: Crave releases Feb 20 and to cel… https://t.co/WPcUSnVRRu
- Sunday Feb 18 - 4:56pm
Bet you didn't know you could pair tap dancing and Star Wars! https://t.co/GS2qzvH7nJ
- Friday Feb 16 - 8:45pm
Better late than never! Discovered the Haim Time podcast on Beats One. So good!
- Friday Feb 16 - 6:45pm
SNL, why did you cut this?! https://t.co/zW8qYyVfc0
- Tuesday Feb 13 - 12:45am
Tellulah's Old Darlings