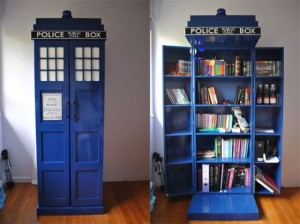 I confess. The TARDIS bookcase has nothing to do with this post. But damn, if it's not super cool and I covet. Alrighty, distraction by pretty things over with. We're here to talk about (rant about?) books in a series that feel like filler. Literary limbo. "Wait – the next book is awesome" story.
In my opinion, it's a rare series can that sustain one main protagonist for more than 5 books. Most of those series end up with books that feel like biding time until the big showdown. Sure, there may be plot twists and turns, but on a character level? Nada. Which results for the reading in feeling like we're killing time.
And I think the problem lies in theme. Or a lack thereof.
So, I'm defining theme here as what the author in the end wants to say about a character. Like, now they are willing to open themselves up to love. If we work backwards, the starting point for that character is obviously, "oh look how closed off to love they are." That part is good. It's all the middle parts that get tricky. Because the author needs to keep the character on a tension filled journey towards that final point of being. Theme defines the character. It is the lens through which they move in the world as they struggle between their current nature and the place to which they hope (consciously or not yet) to get to. Thing is, we get books where that theme – that inherent tension – goes away for a bit.
Here's my shining exception – Harry Potter. There are a few reasons that every HP book felt fully fleshed out. First of all, Rowling centred each book around 1 school year. Essentially a new year in Harry's life. Well, developmentally if we go from ages 11-18, lots happens. There is so much room for growth and change at every stage. And that may not be true of adult protagonists. Or if it is, a lot of authors haven't bothered to find the 7 or whatever books worth of growth. Of theme.
Okay, Tellulah, you say. But what about a trilogy. Why is there so often that second book curse? That the author does a great job setting up the character in book one and that book three payoff may rock. But book two is just a bunch of plot twists that ultimately feel unsatisfying. Again, I say, it's lack of theme. I think in those cases the author has not properly articulated the middle fun and games bit of a character's journey towards balance and end growth.
It's not easy but I think it is necessary. However many books a story spans, the author must chart organic, genuine struggle and change for the character as much as she charts the plot twists. Which is why, in my next romantic comedy series, each book features a different protagonist.
Haha! See what I did there?
xo
Tellulah
Subscribe for bonus content and insider scoops!
Twittering away...
https://t.co/1UHQhm57rN Cautiously optimistic about the premise
- Wednesday Feb 21 - 9:20pm
SPOILER ALERT! A fabulous video that you absolutely SHOULD NOT WATCH if you have not yet seen The Good Place s1 fin… https://t.co/Jqf3UnxHg3
- Tuesday Feb 20 - 4:15am
Lose yourself in a funny, sexy urban fantasy romance! The Unlikeable Demon Hunter: Crave releases Feb 20 and to cel… https://t.co/WPcUSnVRRu
- Sunday Feb 18 - 4:56pm
Bet you didn't know you could pair tap dancing and Star Wars! https://t.co/GS2qzvH7nJ
- Friday Feb 16 - 8:45pm
Better late than never! Discovered the Haim Time podcast on Beats One. So good!
- Friday Feb 16 - 6:45pm
Tellulah's Old Darlings