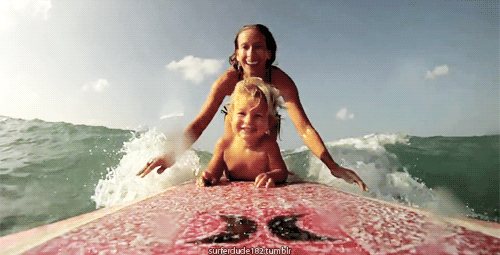 Reality competition shows tend to make me cringe. Aside from The Voice, I generally can't watch them because the bad behaviour of the competitors puts me off. I know it's totally contrived drama and I'm sure some of these people are lovely in real life, but I'm just over the whole "oooh look at that horrible person, let's see them get their comeuppance."
Maybe I'm just at the point where I want a little more kindness in my world.
A few weeks ago, I stumbled upon a 4-part Kids Baking Championship on the Food Network. I started watching because these kids were insanely good bakers. Plus their passion was so clear. They pretty much wore the same expressions as these kids on the surfboard above.
But I kept watching because of who they were as competitors. I saw one girl help a boy finish his dish because he'd hurt his finger and was having to work one-handed. I saw kids genuinely excited to see their fellow competitors progress and awed by the level of talent amongst their peer group.
In short, I saw all these fabulous behaviours of grace, passion, kindness, and good sportsmanship. And I was taken aback because I was so used to see the reverse from adults on most of these shows, and here were eleven-year-olds, totally genuine, and innately displaying these amazing qualities.
Which brings me to kids books. Writing for teens, I obviously read a lot about YA and MG (middle grade) and I love to read both. Yet, there is this persistant judgment about these types of stories. That they are somehow lesser.
Do the same people who judge these books as not being worthy of an adult's time, also judge kids the same way? That these people are somehow lesser or more simplistic than their adult counterparts?
Maybe. And if that's the case, I feel sorry for these adults. Because kids books are no different from kids themselves. Sure, there is bad behaviour, but there are also characters exhibiting marvellous creativity, heart, compassion, intelligence, and wonder.
And why would anyone want to miss out on all that?
What are some of your favourite kids books? Share!
Subscribe for bonus content and insider scoops!
Twittering away...
Husband just remembered that once, when asked what she wanted to be when she grew up, my kid replied, "I wanna be on stilts!" #soproud
- Friday Feb 23 - 9:25pm
https://t.co/1UHQhm57rN Cautiously optimistic about the premise
- Wednesday Feb 21 - 9:20pm
SPOILER ALERT! A fabulous video that you absolutely SHOULD NOT WATCH if you have not yet seen The Good Place s1 fin… https://t.co/Jqf3UnxHg3
- Tuesday Feb 20 - 4:15am
Lose yourself in a funny, sexy urban fantasy romance! The Unlikeable Demon Hunter: Crave releases Feb 20 and to cel… https://t.co/WPcUSnVRRu
- Sunday Feb 18 - 4:56pm
Bet you didn't know you could pair tap dancing and Star Wars! https://t.co/GS2qzvH7nJ
- Friday Feb 16 - 8:45pm
Tellulah's Old Darlings